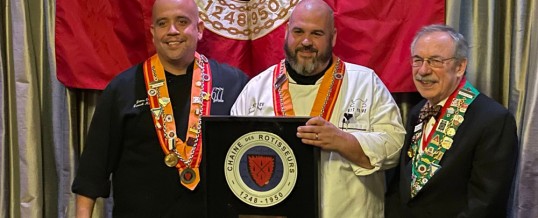 November 13, 2021
Article and Photos by William M. Harris, Bailli
What differentiates a fine dining experience from a truly extraordinary one. In my view, it is the chef's creativity, imagination and passion, the visual appeal of each course, the attention to the minutest detail and finally the overall execution of the dinner. Well 42 members and guests of the Albany Chaîne were dazzled and delighted by the dinner presented by Executive Chef and Maître Rôtisseur Ken Kehn and Owner and Maître Rôtisseur Jaime Ortiz at 677 Prime in Albany – a dinner that checked all the boxes.
Take for example the first course that was a rolled slice of bluefin tuna cured like Italian salumi and covered with a crisp, circular filigree of squid ink tuile. A labor-intensive dish, beautifully presented and delectable. And when have you been treated to a single course containing Japanese A5 tenderloin, foie gras, white truffle with a tournedos Rossini gelled consommé? You will have to look at the stuffed quail photo to fully appreciate the photogenic character of that course as well. And the list goes on, each course containing multiple components and layers of flavor with colorful and eye-catching presentations.  
The restaurant itself is best known as a high-end steakhouse giving off a lively cosmopolitan vibe. Originally owned by Maître Rôtisseur Angelo Mazzone, it was sold to Jaime Ortiz when Angelo decided to concentrate on the catering side of his business empire. Jaime was formerly the Executive Chef for all of Mazzone's operations and is still considered one of the premier chefs in our region. As owner, Jaime promoted Ken Kehn to Executive Chef and Ken was largely responsible for this amazing dinner. It is evident that Ken enjoys creating dishes that are unusual, unique and not off the 677 menu. This was a dinner in which each course was meticulously crafted and required countless hours to fashion and present. The effort that went into producing such a remarkable culinary event did not go unnoticed by our well-traveled and sophisticated Chaîne members.
As the exceptional evening drew to a close, the service staff and culinary team were introduced, and Bailli William Harris presented a Chaîne plaque to Ken Kehn and Jaime Ortiz to the thunderous and well-deserved applause of an appreciative and sated crowd.