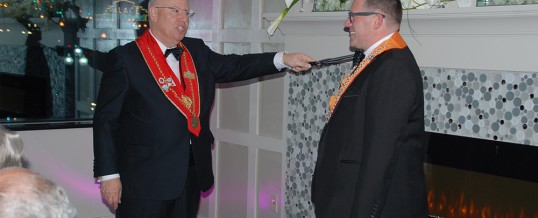 So What's a Supper Club and Why an Ode?
By Stuart Horn, Vice-Conseillor Gastronomique, Bailliage d'Albany
Why choose "Ode to a Supper Club" as the theme for a Chaîne black-tie induction dinner? Let's parse it. An ode is a poem of praise, or as we former English majors like to say, "a lyric poem typically of elaborate or irregular metrical form and expressive of exalted or enthusiastic emotion." Got that? OK.
A supper club was typically a mid-western American dining social and boozing place where people gathered for an entire evening's worth of food, dancing or cabaret acts and, of course, spirits of various kinds, legal and otherwise. Their urban counterparts were glitzy nightclubs. Recall the ballyhooed Stork Club, the Copacabana, jazz at Minton's, all in New York City, or The Golden Fox in Albany. Got that? OK.
Our Albany Bailliage and the imaginative and highly accomplished culinary, service, and beverage teams at Angelo Mazzone's 677 Prime thought what better way to honor new members, those achieving elevation in Chaîne honors, and our guests from the Chaîne Northeast Assemblage than to look back and "praise " our past and to look forward at the same time expressing "exalted or enthusiastic emotion." Got that? OK. Quiz over.
On Saturday April 25th, 82 Chaîne members and guests thoroughly enjoyed and were even astounded by a menu and wine pairings evocative of days gone by but drawing on emerging culinary techniques and concepts applied to what might have been a typical supper club menu.
Chef/General Manager/partner Jaime Ortiz and Executive Chef Ken Kehn, both Chaîne professional members, conjured up their contemporary readings of a typical supper club menu. All the supper club stalwarts are here, but in preparations and presentations that would have left our parents and grandparents gasping.
After the rigors of the joyfully presented induction ceremony, we enjoyed Brut Champalou Vouvray and a minerally Sancerre with such glorious appetizers as waffle cones of tuna tartar and a smash-hit caviar station offering three varieties with all the necessary accoutrements. And that's not all. Crispy chicken skin chitterlings, monkfish tacos, and candied bacon with egg custard filled out the preprandial lineup.
And so to dinner. What's not to love about well-executed shrimp cocktail, Caesar salad, Dover sole meuniere, French onion soup, lobster pot pie, beef Wellington, and classic flambés? Trite? Banal? Not here at 677. Now you were able to love these familiar dishes again by visiting them in their newest uber incarnations.
The shrimp cocktail was presented on a flat plate. Sous vide prawn rectangles were graced by Tabasco powder, lemon gel, horseradish espuma, and intensely delicious tomato horseradish jam. A young and apple-toned 2013 Gobelsburger Kamptal Riesling paired well.
Caesar Salad looked remarkably like an Asian summer roll enrobing romaine greens and adorned with shiitake chips, garlic parmesan panacotta (drawing numerous requests for the recipe), anchovy crostini, and a 155 degree non-runny egg yolk smiling up from it all. Caesar Cardini, often noted as the inventor, would have swooned over the flavors once he reassembled the deconstruction. A 2013 Sauvion Vouvray added just a hint of sweetness to these proceedings.
Dover Sole Meuniere was paired with a Louis Jadot Pouilly-Fuisse from 2013. The legendarily thin sole sat side by side with a spinach croquette, caper gel stuffed caper berry, brown butter in powder form, and a micro parsley salad for lemony crunch. Not overcooked, rich with brown butter and with just the right hint of acidity. What pleasure when the brown butter powder melted on the fish.
No bowls for this French onion soup. A flat plate underlined beef jus soaked onion foccacia, burnt cheese mousse, caramelized onion, sous vide spring onion and garlic, chive and garlic blossoms, and miracle of miracles, cubes of soup gelée and sherry reduction. That's right, cubes. Just push the components together with your fork, et voila, authentic French soupe a la oignon. A lovely, maturing 2005 Aloxe-Corton from Bouchard Pere & Fils seemed vinified just for this dish.
Lobster Pot Pie? When it's bad, it's truly awful: watery broth, overcooked lobster shrapnel, boiled vegetables, bland flabby pastry. When it's good it can be truly wonderful. Our lobster coins, honey thyme Thumbelina carrots, celery seed pastry, potato, lobster caviar, tarragon lobster cream, and pea purée elevated a risky dish to visual and palate-pleasing heights. 2013 Davis-Bynum River West Vineyard Chardonnay provided an oaked California response to the challenge of this New England favorite.
A supper club meal without steak of some sort? Not here. This Beef Wellington escaped the nadir of soggy crust with a vertical arch of lightest pastry (somewhat like the memorial along the Mississippi in St. Louis). Once again, sous vide technology was employed, this time to create a perfectly mid-rare beef tenderloin crusted with black trumpet mushrooms and served with baby turnips, golden beets as well as a beet purée and truffle bone marrow veal reduction sauce. Beefiness without greasiness; depths of forest flavors; beautiful to behold and wonderful to savor. A Bordeaux is a fitting partner for such a triumph. In this case a 2009 Chateau Rollan de By from Medoc provided just the right degree of earthiness (with hints of dark fruit and leather) needed to do justice to this dish.
Desserts were interpretations of such familiar favorites as crepe suzette but in cake form, bananas foster, and cherry jubilee sauce. The portions were just the right size to hit a graceful note at the end of such an extraordinary meal. For dessert wine, we indulged ourselves with a 2009 Chateau Rieussec Sauternes Premiere Cru from southern Bordeaux exhibiting delicate honey and apricot flavors. It's the only Sauternes to have if you can't get Chateau d' Yquem.
An event such as this requires months of planning and forethought. Albany Bailli William M. Harris and his battle-hardened team managed to place a meaningful ceremony and blockbuster meal in the context of a Chaîne des Rôtisseurs regional Assemblage and young chefs competition. National and regional officers and dignitaries attended, participated in, and applauded the hospitality extended to them by the Albany Bailliage, the Mazzone team, Yono's Restaurant, the Albany Hilton, Schenectady County Community College, Capital Region BOCES, and the Albany Institute of History and Art.
We extend our sincere thanks and appreciation to Angelo Mazzone, Jaime Ortiz, Ken Kehn, Sheila Burke, Mary Birbilis-Brough and their proficient and gracious service team at 677 Prime for all that they did to create an event that people will remember years from now, long after supper clubs are but a fleeting memory.