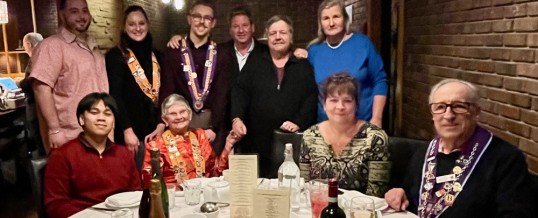 January 31, 2023
"The Albany Chaîne Celebrates the Year of the Rabbit at Ala Shanghai"
Ala Shanghai, Latham, NY
Article by Ilona Weisman, Vice Chargée de Presse
Photos by Bailli William Harris and Vice Chargée de Médias Sociaux Christina Richards
For the year of the Water Rabbit, the Albany Chaîne embraced the spirit of red. There were red blouses and dresses, red shirts, even red wraps as members turned out in force for a Dine-Around on January 31st to celebrate Chinese New Year at Ala Shanghai in Latham, New York. In Chinese lore, red symbolizes prosperity; it is also believed to chase evil spirits. Red envelopes embellished with gold called hong bao in Mandarin and lai see in Cantonese are stuffed with cash at Lunar New Year, gifted to friends and family.  Red lanterns and banners hang in windows; revelers wear new red clothing to welcome good fortune. One of 12 animals in the Chinese Zodiac or Sheng Xiao, the Water Rabbit is witty and ambitious, signifying longevity, peace, and good fortune. Lunar New Year, also known as Spring Festival, is thought to have originated in the Shang Dynasty which lasted from about 1600 to 1046 B.C. Though not the first of the ruling dynasties, it was the first to codify Chinese civilization. The Shang royal house developed a 360-day calendar and the earliest written Chinese language—that is, oracle bone script. It made advances in math, astronomy, and art, and utilized bronze to make chariots and axes for war. Today Chinese New Year is marked by parades, fireworks, and family reunions. It is customary to bang on pots and pans to dispel evil, and to discard old household items to banish hardship that befell in the previous year. 
Since opening in 2010, Ala Shanghai has been a popular destination in the Capital Region for authentic Shanghainese cuisine. To greet the year of the Water Rabbit, chef and owner Lanny Lau and his wife Connie created a ten-course banquet. Tables brimmed with 'lucky foods'—fish for prosperity, sticky rice for abundance, chicken for family togetherness. The wait staff emerged from the kitchen with a steady stream of platters, starting with aster salad and cold soy beef. Chaîne members and guests at large round tables spun Lazy Susans in family style dining to spoon out two seafood courses: scallops, shrimp and asparagus followed by lobster with ginger and scallions. After a vegetable interlude of pea shoots and beefy mushrooms came whole steamed fish deboned at the table, then more lucky food—rice cake with chicken and capsella. Pork shoulder Shanghai style was superb whether a harbinger of good fortune or not, braised to fall-off-chopstick tenderness shimmering in a sauce perfumed with Chinese Five Spice.
In keeping with Lunar New Year tradition, it was a festive evening of hearty foods, symbols of an auspicious start to the year of the Water Rabbit. But be warned: make haste and gather your rosebuds while ye may. Or gather your hong bao and your greenbacks as the case may be. For the last time the Water Rabbit graced the calendar, the year was 1963, and the diverting little creature won't surface again until 2083.