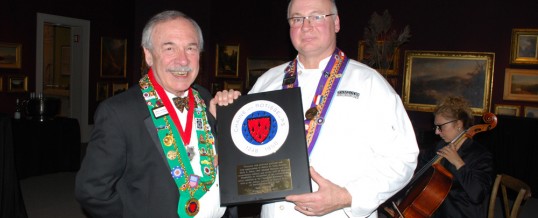 "Taste of the Valley"
November 3, 2019
Article and Photos by William M. Harris, Bailli
The Albany Institute of History & Art is the second oldest museum in the country, having been founded in 1791, when George Washington was president. While the Institute boasts some 30,000 objects and works of art, it is perhaps best known for its impressive collection of oil paintings by the Hudson River School of artists. These breathtaking works are currently on display in the Hearst Gallery which was the venue for our Albany Chaîne dinner on Sunday, November 3, 2019. Surrounded by 80 oil paintings from Thomas Cole, Frederic Church, Asher Durand and numerous others, some 60 Chaîne members and guests sipped Prosecco and enjoyed delectable hors d'oeuvres prepared by the chefs of Mazzone Hospitality.
Museum director Tammis Groft offered a brief welcome and a history of the Institute prior to the commencement of the dinner. Mazzone Hospitality sent its "A" team for the preparation and execution of this logistically challenging meal. This was a tricky dinner to pull off since the Institute lacks a useful kitchen and the staging areas are limited. Given these circumstances, could the food possibly match the glorious surroundings? The answer was a resounding "yes" as Maître de Table Hotelier Mark A. Delos, Chef Michael Hinrichs and Vice President of Catering Sean Willcoxon orchestrated a delightful six course dinner featuring many Hudson Valley ingredients, not the least of which was Foie Gras humanely produced by Hudson Valley Foie Gras in Ferndale, New York. Each course was distinct, featuring multiple components and textures, attractively plated and efficiently served by the professional waitstaff. Adding to the elegant ambience were classical pieces performed by a trio of talented musicians – flute, violin and cello – from the Musicians of Ma'alwyck. Insightful wine and food commentaries were offered by Chevalier George Weissman, Chevalier Robert Brass and guest wine authority Paul Provost. Officier Keith Edwards generously provided the wine for the Charcuterie course – a delicious Domaine Saint Prefert Chateauneuf-du-Pape 2006.
At the conclusion of the dinner, the culinary and service teams were introduced and Vice Chancelier Argentier Holly A. Katz distributed Chaîne pins to each participant. Bailli William Harris presented an engraved Chaîne plaque to Maître de Table Hotelier Mark A. Delos and Chef Michael Hinrichs as Albany Chaîne members and guests roared their collective approval.