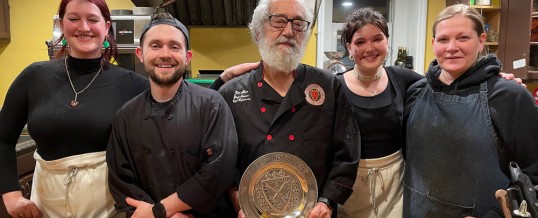 March 28-31, 2022
"La Festa di Cacciatore"
Dinners at Café Capriccio
Article and Photos by William M. Harris, Bailli
Imagine having a terrific dining venue but with only 12 seats, while 48 members are rabidly clamoring for an invitation. What a dilemma! The solution: A dinner on four consecutive evenings limited to a dozen attendees each night.
Maître Rotisseur Jim Rua is the chef and proprietor of Café Capriccio, a legendary Italian restaurant in downtown Albany. On March 28, 2022, and on the three succeeding evenings, he welcomed 12 Chaîne members and guests at his Chef's Table, an intimate dining area located directly above the restaurant. Jim's son, Franco, now handles the restaurant kitchen downstairs, while Jim enjoys hosting the Chef's Table events and does so with grace, charm and humor. He possesses a wealth of knowledge concerning all things Italian and especially prizes Tuscan cuisine. Some years ago he formed a tour company that does escorted weeklong trips to Tuscany. Having participated in one of these I can only say that it was an experience I will long remember and always treasure.
The menu is attached, but I would be remiss in not mentioning a few of the more outstanding items. In the antipasto course, the Focaccia served right out of the oven was amazing, and the two truffled cheeses, one from Sardinia and one from Tuscany, were excellent. The Galantine of Duck Breast was outstanding as was the home-made pasta ragu with pheasant and rabbit sausage. The star of the show was the Lamb Ossobuco accompanied by the La Lecciaia Reserva Collina dei Lecci Brunello 2009, which was drinking exceedingly well and complemented the lamb beautifully.
Jim was assisted by servers Jemma O'Neill and Silas Ward, who were both personable and efficient, and by Chef Danielle Corellis and Chef Michael Preusser, two talented professionals.
This was a chance for our members to enjoy each other's company in a convivial setting. It was like having a family dinner, but without having to put up with that obnoxious uncle who always ruined any gathering. Although the food, wine and service were beyond reproach, I believe that most on hand will remember this experience for the warmth and hospitality exhibited by our host, Jim Rua. Grazie molto, Jim.