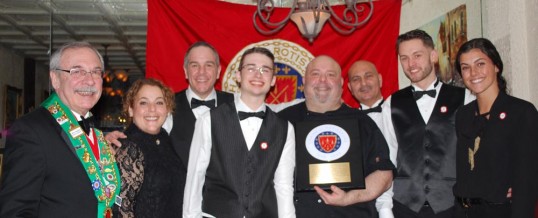 Un Banchetto Italiano
February 10, 2019
Article by William M. Harris, bailli
Caffé Italia Ristorante was founded in 1980 by Joseph and Joanne Romeo and is now owned and operated by their four children: Suzanne Romeo, Paul Romeo, who is the Executive Chef, Maria Karandy, who handles the business end, and Michael Romeo, who runs the front of the house. This is a close knit Italian family that has maintained the traditions handed down to them by their parents, and to this day the restaurant has a large and loyal following in the Capital District.
On February 10, 2019, 45 Chaîne members and soon to be members filled the compact restaurant for an authentic Italian experience. During the reception the guests were treated to a delightful Tenuta Baron Asolo Prosecco Superiore, while the waitstaff effortlessly glided through the packed crowd to insure that everyone was able to enjoy a variety of tasty hot and cold passed hors 'd'oeuvres.
The meal itself was an authentic southern Italian banquet featuring Greens and Beans, a delectable Chilean Sea Bass Antonio, Pasta Calabrese, Vitello Osso Buco and concluding with Tiramisu. The wines were all Italian as well, with many coming from the Chaîne cellar.
The attention to detail was apparent in the attractively set tables, the flower arrangements and the display of wines at the stationary hors d'oeuvres table. And here's a first: Chef Romeo came out after every course to inquire of Bailli Harris how he had enjoyed each offering.
Susan Aron DeFronzo received a Chaîne chain to wear pending her formal induction later in the year, and Chevalier Michael Tate was awarded a Commandeur badge for his 20 year membership.
Chef Paul Romeo accepted accolades and a Chaîne plaque from Bailli William Harris, and the staff received pins and well-deserved recognition for their stellar efforts from the assembled throng.
Although the food was terrific, what the Chaîne members may remember more than anything else about this dinner was the warmth and genuine hospitality that radiated from the Romeos and their staff. For a few memorable hours we felt as though we were not guests, but a part of the family, and that made it a very special experience for us.