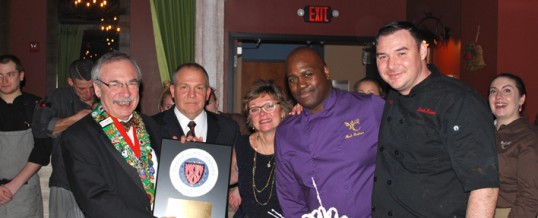 A Gastronomique Tour of Italy
Article and Photos by William M. Harris, bailli
Campagna Restaurant located in Malta, just a few miles south of Saratoga Springs, was the venue for the Albany Chaîne's January 8th dinner attended by 48 enthusiastic members and guests. The relatively new restaurant is owned by two former pharmacists, Joe and Elizabeth Montemorano. Embarking on upon this new enterprise was not as radical a departure for them as one might expect. Elizabeth's father was a farmer and longtime restaurateur who instilled in his daughter and son-in-law the importance of strictly fresh food products and hands-on preparation, just like in the old country. As a result, just about everything is made in house utilizing the freshest local ingredients, paired with imported Italian products.
Derek Adams, who was a "Rising Star Chef" at Albany's Wine & Dine Food Festival for the Arts, handles the kitchen duties and fashioned a menu based upon the cuisine of six different regions of Italy. Until 1871, when the various provinces were unified as the Kingdom of Italy, the country consisted of a number of autonomous states, each with its own governing body, cuisine, cheeses and wines. The regional variations persist to the present day and afforded our members the opportunity to sample offerings from Tuscany, Emilia, Sicily, Lazio, Lombardy and Campania. To the extent possible, we utilized Italian wines from the same region to compliment each course, the star of the show being the Antonio Sasa "Martina" Brunello from the 2006 vintage, plucked from our Chaîne cellar.
Between courses we were entertained by Amy-Lin Slezak-Nelson, performing Italian arias con anima. Although Amy-Lin had an extremely powerful voice, by the end of the evening the din of the crowd made it difficult for her to be heard. I don't know if it was the food, the wine, the graciousness of our hosts or a full moon, but of the many Chaîne dinners I have attended, I have never witnessed such laughter, warmth and camaraderie. That will be my fondest memory and made for a very successful evening.