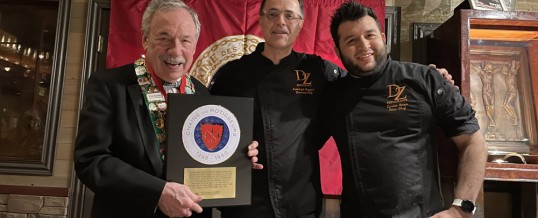 February 21, 2022
Chianti il Ristorante, Saratoga Springs, NY
Article and Photos by William M. Harris, Bailli
On February 21, 2022, 42 members and guests of the Albany Bailliage convened at Chianti il Ristorante in the heart of vibrant Saratoga Springs, NY. The occasion was a black-tie dinner orchestrated by Executive Chef Fabrizio Bazzani. Born in Isola della Scala, Italy, Fabrizio developed a passion for food at an early age and was treated to delectable homemade meals every day during his formative years, resulting in an obvious choice of his future calling. After achieving adulthood, he worked in restaurants in Florence before venturing to Southern California where he further honed his skills under legendary chefs at Prego and Tuttomare. After a chance meeting with Chianti's owner David Zecchini in the late 1980s, Chef Bazzani was somehow persuaded to abandon sunny and warm California for upstate New York. At Chianti he has established himself as an outstanding culinary professional and the attendees at our Chaîne dinner can now be heard to sing his praises.
The starter course was Scottish Salmon tartare with teriyaki mayo, green apple and carrot emulsion. This was paired with a Piero Mancini Vermentino di Gallura 2020 from Sardinia – notably the only DOCG Vermentino in all of Italy. It was a wonderful combination and the presentation was picture perfect. The courses that followed did not disappoint and included a cod tortellone, charred Spanish octopus and an unusual smoked brisket risotto. Perhaps the highlight was the tender braised veal cheek with polenta petals and parsnip perfectly paired with a lovingly aged and undeniably delicious La Poderina Brunello di Montalcino DOCG 2008.
Each course contained multiple elements and flavor profiles and it was obvious to our members that countless hours had gone into the creation and execution of this feast. The beautiful presentations, as evidenced by the photographs, further enhanced the culinary experience.
At the conclusion of the dinner, Chef Bazzani was presented with an engraved Chaîne plaque by Bailli Harris and received a hearty round of applause from the appreciative Chaîne gathering.