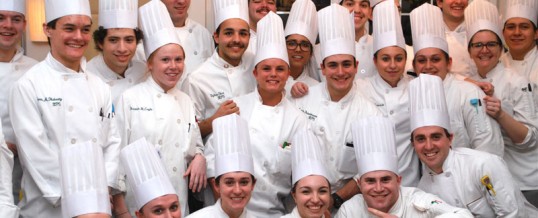 If the CIA in Langley was as Good as the CIA in Hyde Park, the World Would be a Safer and Better Place
So we have to transport ourselves from upstate New York to Langley, VA to dine at the CIA? Should we bring coins for the canteen vending machines? Oh, not that CIA? You mean the other CIA in Hyde Park, NY? Ah, that's more like it!
It's no state secret that the Culinary Institute of America is, in the words of Dr. Joel M. Spiro, Conseiller des Bailliages des Etats Unis Hon. and CIA Fellow, "Our nation's and probably the world's foremost educator of restaurant and beverage industry personnel."
Forty-five members and guests of the Albany Bailliage braved a bus excursion and blustery winds to treat themselves to food and wine exquisitely prepared and presented by the students and professional faculty in the contemporary elegance of the recently opened Bocuse room designed by world renowned restaurant and hotel consultant Adam Tihany.
Honored invités included Dr. Gabor Huszar, Bailli Provincial du Nord-est, the recently appointed Mid-Hudson Bailli Gerard Viverito, Dr. Helen Cappuccino, Bailli of Buffalo and Regional Chargée de Presse, and Ms. Barbara Collins, Vice-Chancelier of the Buffalo Bailliage.
A tasting and pairing dinner was held nine days before the actual event. Albany Bailli William Harris, Vice-Conseillor Gastronomique Stuart Horn, Vice Conseillor de la Toque, Master Chef Dale Miller, and wine merchant, restaurateur and Officier Maître Rôtisseur Louis Bruno worked with Chef Lynne Gigliotti (CIA '88, Associate Professor, Culinary Arts), the CIA restaurant management faculty, and student servers to pair wines with the main menu.
On the day of reckoning, Chef Gigliotti wanted us to experience the range of appetizers offered on the regular Bocuse menu but in a size appropriate for our Champagne (Paul Geoerg, Brut Tradition, Premier Cru, NV) reception. We reveled in her perfectly mouth-sized escargots with foie gras, lobster and scallop sausage, foie gras torchon, truffle consommé with vol au vent, and crispy octopus all deftly served by students working in pairs, one offering the tray of yum-yums and the other necessary and appropriate utensils and napkins.
Dinner followed and what a wonderful dinner it was. Consommé de canard napped blissfully light foie gras ravioli and lemongrass custard. The richness was balanced by a 2013 Weingut Spatlese by Max Ferd Richter from the spectacular Riesling slopes of the Mosel's Wehlener Sonnenuhr.
Drawing ooh's and ah's was lobster poached in butter served alongside an artfully seared sea scallop with celeriac puree and lobster caviar butter, all plated in the shape of a fish. What better complement than a beguilingly oaky 2010 Meursault from from Domaine Jean-Michel Ganoux, Burgundy.
Boneless lamb loin, squash, shaved Brussels sprouts, mushroom melange and lamb jus cried out for the heartiness of a Rhone wine, and a young 2012 Chateauneuf-du-Pape by Domaine Lafond had the smokiness and oomph, after decanting and breathing, necessary for this feast for the palate and the eyes.
Two cheeses from the justly famous Jasper Hill Cave and Farm of Greensboro Bend in Vermont's Northern Kingdom were presented paired with Camille Giroud's Vosne-Romanee from the acclaimed 2005 vintage. The Alpha Toman is an American cousin of Alpine style cheeses, nutty and mildly herbaceous. Willoughby is a washed rind cheese with notes of peat smoke not unlike the French Epoisses from Burgundy giving way to an unctuous buttery interior. The wine loved the Willoughby, and the Willoughby loved the wine.
So who needed dessert and French press coffee? I guess we did because Associate Professor for Baking Arts Stephane Weber conjured up a magical mascarpone panacotta with roasted grapefruit floating blissfully in pinkish red hibiscus grapefruit soup abetted by cool green "rocks" of iced shiso. (Sorry but we can't tell you what shiso is. It's classified "top secret" at Langley). The tiny chocolate and pastry mignardises provided a perfect graceful note to end it all.
The service and pacing were exemplary under the watchful eye of Associate Professor Raimundo Gaby, Jr. (CIA '97) who was responsible for the front of the house.
The students from the kitchen, the student servers, the student dining room mangers and the professional staff all received richly deserved standing ovations when they accepted awards from the Albany Bailliage presented by Bailli William Harris and Buffalo Bailli Helen Cappuccino.