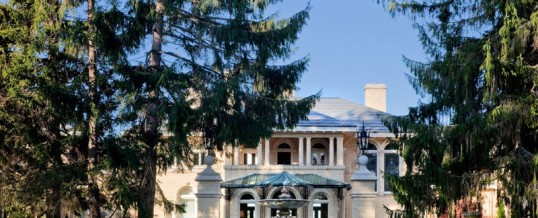 Dinner at the Wheatleigh
Article and Photos by Bailli William M. Harris
In 1893 Henry H. Cook decided that an appropriate wedding present for his daughter would be a modest summer cottage surrounded by 380 acres of land. And so was born Wheatleigh, based upon a 16th century Florentine Palazzo and located in Lenox, Massachusetts. All I can say is that Henry must have loved his daughter very much as this country estate is nothing less than spectacular.
The property has now been transformed into a 19 room luxury hotel and features a dining room that is rightfully considered one of the top restaurants in the northeast, if not the United States. A few months ago, Boston Bailli Marshall Berenson asked me if members of the Albany Chaine would be interested in joining the Boston Chaine for an intimate autumn dinner at the Wheatleigh and I responded in the affirmative before you could say "foie gras".
On a sunny September 20th, a total of 19 Chaine members and guests from Boston and Albany had the good fortune to experience this black tie event (for this place white tie and tails might have fit in as well, although I must admit I don't own these) and will fondly recall the evening as one of the finest culinary experiences imaginable.
Upon our arrival, we were greeted in the foyer by servers offering flutes of Pol Roget Champagne and a variety of hand passed hors d'oeuvres that were as appealing to the eye as they were to the palate. As might be expected, the Albany and Boston members delighted in convivial exchanges and enjoyed each other's company – just what one would expect in a Chaine get together.
The dinner itself took place in the Conservatory, an elongated room featuring high ceilings, Corinthian columns and floor to ceiling windows, affording magnificent views of the verdant countryside. The seven courses with wine pairings are described on the accompanying menu, but the printed word really cannot do this meal justice. Let me just say that the courses were extremely well thought out and executed, each showing a number of different components, flavors and textures, and as you can readily see from the photos, attractively presented.
Because we were in Massachusetts, the restaurant provided the wines. The pairings were spot on and opened my eyes to several wines that I had not previously enjoyed.
Service was attentive, professional and beyond reproach and the pacing was exemplary.
At the conclusion of the dinner, Bailli Berenson presented a plaque to Executive Chef Jeff Thompson while I distributed pins to his hard working culinary team.
As one of our Albany members remarked at the conclusion of our meal, "This is like the true Chaine dinners of the old days and what the Chaine is all about."
This was indeed a classic dinner in an elegant setting and it was an honor to be there.