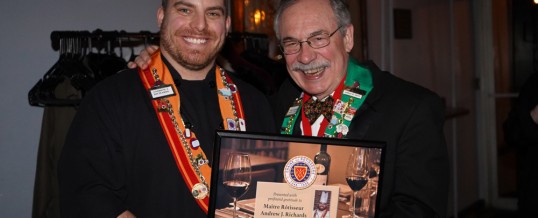 [farmacy] Restobar: A Healthy Dose of Artful Cuisine
January 12, 2020
Desirée A. Farley, Chargée de Presse
It is always a pleasant experience when members caravan together to one of America's greatest small cities! Glens Falls is full of things to do, and this small but sophisticated little city will surprise you with festivals, theater, recreational activities, concerts, as well as great shopping and restaurants, including the recently opened [farmacy] Restobar at 22 Ridge Street. [farmacy], which clearly is a play on words, emphasizes preparing, preserving and dispensing regional farm products, and the team is proud to divulge the origin of the food items, as they are predominantly local.
On January 12th, 36 Chaîne members and guests enjoyed the fifty minute chauffeured drive from Albany to "Hometown U.S.A.", a title Look Magazine gave Glens Falls in 1944, and where Vice Chargée de Médias Sociaux Christina L. Richards and Maître Rôtisseur Andrew J. Richards opened this restaurant less than a year ago. Located in a 1900's family feed store, [farmacy] has an open kitchen, with sous chefs preparing meals in the window looking out on Ridge Street. The team honors the charm of the building and the community through experimental cuisine, hand selected wines, and craft cocktails – a little something for everyone. Prior to the dinner, Chef AJ, as he is commonly known, informed us that in the best French tradition, he insists on utilizing every part of the animal with nothing going to waste. Hence, as we were to discover, our courses contained unusual ingredients such as rabbit offal, beef heart and rabbit forcemeat. The Chef demonstrated his proficiency by combining these selections with other food items to create totally unique and flavorful dishes. Did we mention that Chef AJ had worked at Alinea in Chicago with Chef Grant Achatz?
In addition to the many extravagant butler passed hors d'oeuvres–blistered shishito peppers with Chinese five spice crema, charmed seasons seed chimichurri, fried yuca chip with Caribbean pico de gallo, apple cider poached grilled carrot with a smoked celeriac, pickled grilled onion, and sous vide sunchokes in a burnt rosemary reduction–guests were treated to Marquis De La Tour Champagne during our reception. The delicate aroma and crisp melon flavors of the wine blended with the exotic samplings to achieve the desired pleasing effect, yet showing boldness on the palate.
So much love, art and passion went into the complex eight-course dinner that followed. Guests were delighted with the first course, rabbit offal stuffed 'maraschino' cherry, Riesling gelée, peanut dust, chicharron paired with a relatively undiscovered 2012 JanotsBos Saint-Aubin 1er Cru, Burgundy. Next we were delightfully surprised with oysters on a half shell, prepared with yuzu (Japanese citrus) granita, tobiko (flying fish roe), coconut foam and lemon balm, excellently paired with a 2018 Domaine des Cassgnoles Cotes de Gascogne. The next course, the nasturtium flower served with bitter greens, toasted pepitas, sesame oil vinaigrette and pink salt, landed big on the palate and was a testament to the Chef's many hours of formulating and executing his menu with precision.
As a seemingly psychological intermission the [farmacy] team suspended members in disbelief as the servers returned to the tables with a bread offering – a rare Chaîne occurrence. Vice Chargée de Missions Carmela Rappoccio Daubney (owner of a venerable Italian restaurant in Albany) took a victory lap to express gratitude for the amazing house sourdough bread served with local honey butter from Battenkill and bee pollen.
The next three courses contained multiple ingredients, flavors and textures including Macau style lion's mane mushroom, dinosaur kale slaw, cured egg yolk, and blood orange agrodolce which was given praise for its pairing with a stunning 2013 Mas Carlot "Les Enfants Terribles", Costierie de Nimes which was earthy, with hints of tobacco and dark fruit. In a delightful twist, guests were tantalized with smoked beef heart pastrami, b+b pickled relish, 'yellow mustard' aioli, toasted brown butter caraway focaccia, grilled pickled red onion and house fries paired with a delicious 2017 Domaine de L'Amandine "Seguret", Cote du Rhone Village. The most seemingly obvious pairing here is the French fries with the French wine. The main course was a rabbit roulade, the rabbit stuffed with rabbit forcemeat and accompanied by a spiced carrot puree, micro green salad and pistachio crumb. From the Chaîne cellar a 2005 Faiveley 1er Cru "Les Porets Saint-Georges", Nuits Saint Georges complemented the course.
As remarked by our members, this was a truly heart-warming experience in the midst of a chilly New York winter, just three weeks after the restaurateurs welcomed into this world their first-born. Congratulations and welcome, Harper Declyn Richards, into the Bailliage of Albany family!
In addition to the dinner being a wonderful educational experience earmarked by marvelous dishes and artful presentations, it was also a testament to the love and passion Vice Chargée de Médias Sociaux Christina L. Richards and Maître Rôtisseur Andrew J. Richards have for their craft, their community and for each other. This dinner was a resounding success.