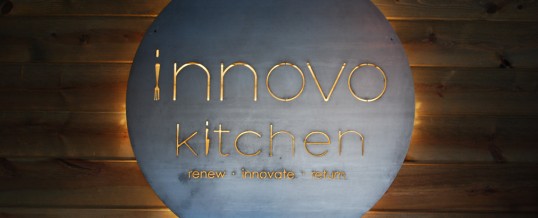 "Born in the USA!"
September 15, 2019
Desirée A. Farley, Vice Chargée de Presse
On Sunday, September 15, 2019, members and guests of the Albany Chaine convened at Innovo Kitchen in Latham, NY, just outside of the Albany city limits. The kitchen is overseen by the creative and culinary force that is Chef/Owner John LaPosta. His passion for excellence, beaming hospitality, and tireless work have been the hallmarks of John's 30 plus years as one of the Capital Region's most popular chefs. His simple philosophy has always been "put the love on the plate."
On Sunday, September 15, 2019, members and guests of the Albany Chaine convened at Innovo Kitchen in Latham, NY, just outside of the Albany city limits. The kitchen is overseen by the creative and culinary force that is Chef/Owner John LaPosta. His passion for excellence, beaming hospitality, and tireless work have been the hallmarks of John's 30 plus years as one of the Capital Region's most popular chefs. His simple philosophy has always been "put the love on the plate."
John and his team welcomed Chaine members and guests to his latest adventure, Innovo, by preparing a menu full of great energy, paired with fine hospitality, and of course, outstanding food. Ample hors d'oeuvres were served as guests enjoyed being outdoors for the final days of summer under the covered patio while sipping Champagne and enjoying each other's company. Appetites were satisfied by numerous classic, yet, creative dishes professionally served all playing on the theme "Born in the USA": Maine Lobster Rolls, Cheeseburger Boa, Cool Ranch Tater Tots, Deviled Duck Eggs, and (an all time favorite) Philly Cheesesteak.
The six course dinner was fun and unassuming with dishes ranging from an attractively presented "Kids Lunch" including house made bologna with American cheese (also made in house) and sous vide egg yolks served with kettle chips to a spectacular smoked beef brisket served with Bergenost spoon bread and Later Summer Succotash.
The service staff was personable and enthusiastic throughout while pacing the courses–Maryland Crab Cakes, Chicken & Waffles, Wild Alaskan Salmon Cioppino, Smoked Beef Brisket, and Waldorf Salad–superbly. Members and guest were delighted with small details that made the respective course really come to life such as the delectable white onion gravy that accompanied the Buffalo chicken rillettes placed in between a decadent waffle. Each course was accompanied by a carefully selected American wine from either New York or California to compliment the chef's offerings.
At the conclusion of the dinner, Key Lime Funnel Cake was served followed by a Dows 10 Year Old Tawny Port. Bailli Harris presented a plaque to Chef LaPosta and Chaine pins were distributed to the service staff and culinary team as they received applause from a very satisfied Albany Bailliage. And yes John, our members enjoyed Innovo Kitchen just as much as you enjoyed creating it!