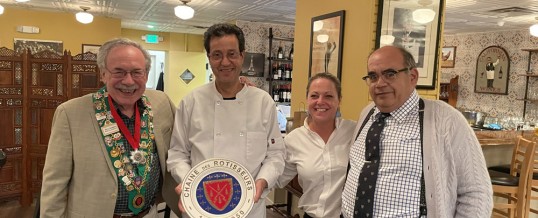 Albany Chaîne Dine-Around at Le Quai Bistrot Française
April 17, 2023
Article by Vice Chargée de Presse Ilona Weisman
Photos by Bailli William Harris
Hélas! The lament echoes through the Albany Chaîne des Rôtisseurs. Where have all the traditional French restaurants gone? No more Provence, no more L'Auberge. Closed are the Chez's, both René and Nous. But 10 miles north of Albany in the sleepy village of Waterford, New York, a jaunty newcomer serves up what Capital Region gastronomes have longed for – classic French cuisine. All French and nothing but, Le Quai Bistrot Française is a stone's throw from where the steepest locks on the Erie Canal meet the Hudson River. The translation for le quai is 'dock'; and indeed Waterford's 7.4 square miles of land area is more than 10 percent water.
During an extended stay in the area, Dame de la Chaîne Kathleen Parker of the Hong Kong bailliage discovered the restaurant. In the spirit of global Chaîne camaraderie, Ms. Parker had joined the Albany chapter's recent events. And when she alerted Bailli William Harris to the authentic French spot, he promptly scheduled a Dine Around for his escargot-starved flock.
Thus the Albany Chaîne assembled on April 17th at Le Quai which was closed for the evening to all but 24 members, testing the limits of the restaurant's seating capacity. A double-wide glass storefront shaded by scalloped awning beckoned diners inside to a welcoming room filled with natural light filtered through lace curtains. In as unpretentious a setting as your grandmother's sparkling clean kitchen in Provence, chef and owner Mo Malih demonstrated the skill he brought to the aforementioned but now defunct Chez Nous in Schenectady and Le Canard Enchainé in Albany.
It was all superb, from the popular starter escargots wrapped in phyllo with mushroom fricasée and Cognac crème, to the house made duck and pork paté, to my choice – foie gras with quince jam and a side of crouton in truffle oil, an inspired combination. The entrée menu is small with a couple seasonal additions that change weekly. We were advised to try the lapin à la moutarde or the braised lamb shank, since they would soon be replaced on the menu by summer fare. The lamb shank arrived steaming and fragrant, a portion fit for a Flintstone. Coquilles Saint-Jacques was seared to a delicate golden exterior, tender and satisfyingly chewy inside. A nod to the French in North Africa, poulet Marocain, arrived in tagine crockery. Chaîne members brought their own wines of course (corkage fees were suspended for the occasion), though the restaurant does have a modest but intelligent wine list.
That evening we officially put the tissues away, shedding tears no more over where to bring our Burgundies, Bordeaux, and wines of the Rhone. Because now we know Le Quai is here – all the blessings of France but closer to home. Merci beaucoup, Kathleen Parker.