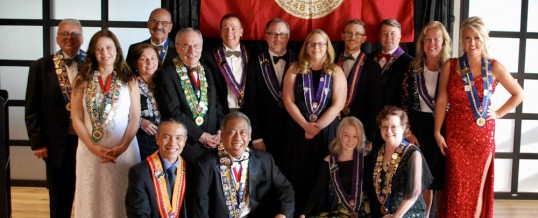 Induction Dinner at Loft 433, Troy, NY
September 19, 2021
Article by Desiree Farley, Vice Chargée de Presse
Photos by William M. Harris, Bailli
On September 19th, 41 Confrères of the Albany Bailliage gathered at Loft 433 at the top of the renovated Hedley building on River Street in Troy overlooking the scenic Hudson River for the annual induction ceremony. The building was originally built in 1917 as a shirt factory and maintains much of its industrial vibe with original masonry walls and lofty ceilings complemented by elegant touches in the ballroom including floor to ceiling windows. For some, this event marked a return to the Chaîne after upwards of 18 months of COVID-19 restrictions, this reunion resulting in much celebration and excitement amongst generations of comrades.
Still beaming with elation from the previous dinner only six weeks earlier, members and their guests enjoyed a delightful atmosphere as they mingled on the outdoor patio nine floors up with their choice of wine and spirits in anticipation of what Maître de Table Restaurateur Mark Delos, Senior Executive Chef David Zuckerman, and the talented team at Mazzone Hospitality had in store for them. These professionals did not disappoint from the get-go with a wide spread of butler passed hors d'oeuvres ranging from a simple (yet decadent) charred tomato & fennel bisque with a delightful grilled cheese skewer, smoked salmon on flatbread, and a more sophisticated beef falafel with Tzatziki sauce, Hudson Valley foie gras dumplings, and jacket wrapped Reuben – a little something for everyone. There was also a stationary display of oysters prepared three ways, pleasing to the eye as well as the palate. Talented guitarist Crispin Catricala provided delightful background music adding to the ambience of the reception.  
As the cocktail welcome reception concluded, guests topped off their drinks and were ushered to a partitioned section of the ballroom lit up by the intense golden sun setting over the Hudson River. A very charming induction ceremony was officiated by Chambellan Helen Cappuccino who had graciously endured the arduous journey from Buffalo.  Helen presented the history of the Chaîne and then genially inducted seven new members and oversaw three elevations. The prestigious Commandeur badge was awarded to Dame de la Chaîne Mary Beth Allen for 20 years of membership.
Now for the main event.
A meaty piece of octopus tenderly cooked to perfection garnished with smoked potato saffron vichyssoise, chorizo butter, salsa verde was served in a mini cast iron skillet for one. The first course was such an attractive dish it was borderline sinful to alter such a piece of art by consuming it. Served alongside the Nuraghe Crabioni Vermentino di Sardegna (2019), a wine with powerful sweet notes of exotic fruit, this dish was a showstopper and truly enjoyable to ingest and discuss with dinner guests while the sweet notes danced intensely back and forth with the smoked saffron and was an excellent complement to the cephalopod as a whole.
The second course included wild mushroom cannelloni, sunchoke, black garlic red pesto and was paired with the Joseph Drouhin, Gevrey-Chambertin (2005), a wine with a beautiful, bright ruby color. Intensely fruity on the nose with a subtle woody character, the wine evolved over many sips into more complex notes and harmonized nicely with the cylindrical filled pasta.
Next course on deck, the cedar paper wrapped halibut, with toasted butter radishes and smoked bacon Swiss chard challenged the diners to decide how much of the beet dashi to drizzle over the fish. The course was accompanied by the Joseph Drouhin, Saint Veran, Burgundy (2019). Sipping the strong apple notes was a reminder that we are about to enter the Fall season in Upstate New York. The crisp wine was expertly paired with the salty greens upon the halibut.
The standout of the fourth course, grilled peaches, quick raisins, late season lettuces, and verjus was hands down the gorgonzola bruléed figs.  "Oh my" could be heard as the first bite was fully consumed alongside the Florent Cosme "La Motte" Vouvray Sec (2019), a 100% Chenin Blanc from the Loire Valley, grown on 40-year-old vines. Members and guests were left pleading for more!
To our complete and utter delight, the fifth course consisted of beef rib eye deckle (the juiciest and tastiest bit of the rib eye) roast, stone ground asiago pressato corn pudding, rosemary jus, and dragoncello to be enjoyed with none other than the La Serena, Brunello di Montalcino, Tuscany (2010), an intensely deep, well balanced, ruby red wine with both fruity and spicy notes. This dish was simply elegant. 
Next, guests' palates were tantalized with the sixth and final course, Tuscan Bomboloni (doughnuts), pastry cream, hot chocolate, raspberry coulis, sugar dust served with Warre's Warrior Porto, Finest Reserve, a deep red color, with intense rich aromas of ripe red fruits and spices with a long and complex finish. Superb with cheese, nuts, dried fruit, and especially doughnuts after a meal!
As the exceptional evening drew to a close Bailli William Harris congratulated Maître de Table Restaurateur Mark Delos, Senior Executive Chef David Zuckerman, and the team at Mazzone Hospitality for a superbly executed dinner. The Mazzone team continues to reign supreme in the greater Capital Region of New York by creating the most memorable experiences, offering the finest quality foods and providing unsurpassed personalized service, driven by passion for life's special occasions.
Congratulations to our 2021 inductees, Mr. Severn Goodwin – Chevalier, Dr. Jordan Kassoff – Chevalier, Ms. Leona Kassoff – Dame de la Chaîne, Ms. Janice McLachlan – Dame de la Chaîne, Ms. Debra Schehr – Dame de la Chaîne, Ms. Sarah Spiro – Dame de la Chaîne, Mr. Joshua Turo – Sommelier and to our members who were elevated, Dr. Robert Brass – Officier, Chef Jose Arteche – Maître Rôtisseur, and Chef Kenneth Kehn – Maître Rôtisseur.