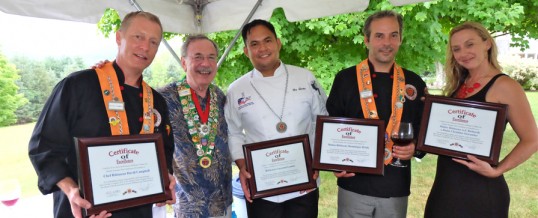 A Picnic in the Berkshires
Article and Photos by William M. Harris, bailli
Generosity is a trait shared by many of our Chaîne members and this was made evident by the response to my request for a venue for our summer picnic and professional members to prepare the fare.
Albany Officier Keith Edwards, an internationally known neurologist, and his charming wife, Judy, without hesitation offered up their lovely home and ample grounds in Williamstown, Massachusetts for our Chaîne summer celebration. A call to our Chaîne chefs was promptly answered by four volunteers and we were in business.
The Edwards' home is perched on a hilltop offering stunning views of the Berkshire Mountains. On August 21st, some 40 casually attired Chaîne members and guests came together to enjoy the mountain scenery, splendid food and wine and each other's company. If that wasn't enough, the jazz quintet "Out of the Box" entertained and even got some of our folks dancing.
The food was remarkable both in quality and quantity. The raw bar of clams, mussels, shrimp and oysters was seemingly without end. But there were also passed hor d'oeuvres of Chorizo Shrimp Bites, Mushroom Arancinis and (my favorite) Asian Style Mini Lobster Rolls. After a chilled Heirloom Tomato Soup with Smoked Paprika, Grilled Corn and Potato Caviar, we were treated to our entrée of Grilled Tenderloin with a Demi-Glace and Grilled Giant Scallops with Beurre Blanc. These were accompanied by Celery Root Puree, Crispy Potato Stack and, of course, grilled local sweet corn. For dessert we devoured a combination of Poached Pear, Vanilla Ice Cream and Raspberry Coulis topped with an Almond Tuile. Dominique Brialy, when he wasn't busy shucking oysters, found the time to prepare an amazing sampling of sauces from mignonette to cocktail sauce to buerre blanc. Multiple wines from the Chaîne cellar were on hand to slake the thirst of our discerning crowd. Dr. Edwards also secured from his cellar a magnum of 1999 Paul Jaboulet Hermitage "La Chapelle" that was quickly and appreciatively dispatched. Our thanks to Rôtisseur Gio Lontoc, Chef Rôtisseur David Campbell, Maître Rôtisseur Dominique Brialy, Maître Rôtisseur A.J. Richards and Dame Christina Ostrander for their stellar efforts in creating the menu and preparing and serving the food and to Keith and Judy Edwards for being such gracious and welcoming hosts.
Although a departure from our more formal black tie events, our outdoor get-together was thoroughly enjoyed by all.