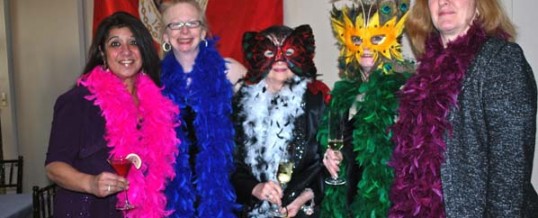 We knew we were in for an interesting evening when we found out that the theme for our January 29, 2012 gathering at Taste was Saints and Sinners! Sure enough, for 48 conferees and guests of the Albany Bailliage, it proved to be quite interesting and so much more! Set in downtown Albany with a spectacular view of the cityscape and river vistas from the penthouse, Taste is owned and managed by Maître Rôtisseur Maura Gannon and Maître de Table Restaurateur James Linnan.
Women were encouraged to bring their boas and sport fish net stockings, and several did. But they were clearly outdone by the evening's entertainment, Charmed and Dangerous, who wore both, and not a lot more, as they greeted us during the Champagne reception. We savored lamb shank fritters, butternut squash flan and smoked rainbow trout as we quaffed Prosecco and colorful pomegranate martinis. The bite of the night was a creative take on "eggs and bacon"- fried quail eggs with crispy pork belly.
Chef Rôtisseur Paul Ozimek presented many of his favorites for our culinary enjoyment. The first course, oysters and charred cuttlefish with young coconut curry and baby arugula, was aptly paired with Domaine Ostertag, Fronholz, Riesling, Alsace 2007. Its dryness went well with the brininess of the oysters and the texture of the cuttlefish.
After the first course we would get our first taste of the talents of our entertainers. By turns bawdy, funny and raucous, this team of burlesque performers and their leader, Fernando, amused and delighted us all. Singing, dancing, gyrating and encouraging behavior that was anything but saint-like, they made for a high-energy evening. Dollar bills flew everywhere! Many confreres and guests took to the dance floor themselves between courses.
Conundrum, California 2010 proved to be a good match for the next course: a pork belly filled scallop mousse with whipped sweet potato and pomegranate jam. Next was a blood orange crusted sea bass with grilled hearts of palm and mirin potato butter and our second Riesling of the evening, Hermann J. Wiemer, Semi-Dry, Finger Lakes 2009.
A unique preparation for sweetbreads, speck wrapped and served on a polenta cake with roasted cauliflower, tantalized our palates. The Chateau de Saint Cosme, Gigondas, Rhone Valley 2008 did it justice. The decadence continued with foie gras tortellini, caramelized foie gras and confit of cipollini onions followed by langoustine tartar and shoyu glazed cote de beouf. The later course was accompanied by a rich and satisfying Tedeschi Amarone 2006.
Meanwhile, the fun continued on the stage with an indelicate number featuring a "priest" and "nun", a Paula Deen look-alike doing a topical comedy routine and our own Bailli Bill Harris receiving a sexy onstage torch song from one of the lovely female performers, all to the uproarious delight of the crowd.
After a dessert of dark and white chocolate panna cotta with a Bera Brachetto Piemonte 2010 and more dancing, we all slithered home to repent and seek redemption!