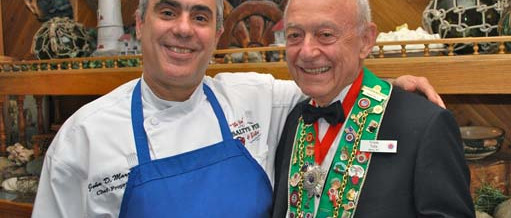 On September 18th forty members of the Albany Bailliage docked at Salty's Pub for an evening of maritime delights. Chef Rotisseur and owner John Marzilli welcomed us with an amazing selection of tastes and textures: profiteroles with lobster salad, seared sea scallop with horseradish and sausage, fried oyster with remoulade sauce and braised octopus salad. All were nicely complemented by Taittinger Bouvet Brut.
From the reception, we sailed into the dining room to navigate our way through course after course of treasures from the sea. A seafood trio of monkfish liver terrine, tempura fried sea bass and red snapper was perfectly paired with Reinhold Haart, Peisporter Goldtropfchen, Riesling Kabinett 2008. These "gold drops", dripping with ripeness, displayed bright fruit and perfect balance. The next offering was a nicely presented, deconstructed clam "chowda". A leek and fennel broth was poured tableside over clams seated on braised shallots and potatoes. We all agreed that the accompanying, limited production, Tiefenbruner, Muller Thurgau, Feldmarschall 2010 was a real treat!
Tuna Au Poivre with eggplant caviar rounded out the first half of our dining experience. Clos du Piat, Cotes de Bourg, Cuvee Jade 2000, with its deep color and mature fruit, matched well with the Merlot reduction of this dish. After an intermezzo of lemon and orange sorbet we were presented with the hit of the evening! A perfectly cooked fillet of Cod, dusted with shitake, dressed with a harvest corn buerre blanc and resting on a bed of melted leeks and palm puree was nothing less than sensational! It was served with a crisp, fresh Domaine BuissonCharles, Mersault 2001.
A beggar's purse of bleu cheese and caramelized onions with micro greens followed. Our nautical journey came to an end with a dessert of white chocolate bread pudding, poached Granny Smith apple and butter pecan gelato. A mead-like Domaine La Tour Vielle, Banyuls 2009 offered a naturally sweet note to these final courses. As we set our sails for the journey home, we were all very glad that we had briefly dropped our anchors at Salty's Pub for this Chaine event! Kudos to Chef Rotisseur John Marzilli, Chef de Cuisine Bill Hohenstein and all of the staff for a successful evening!