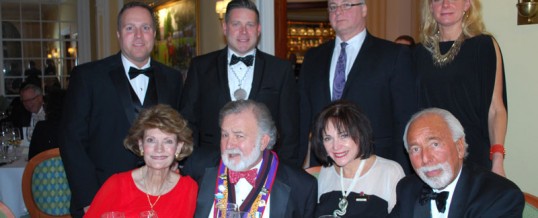 Baby, it was cold outside (22 degrees to be exact). Neither horsemen nor horses competed on the snowy polo ground. No golfers toiled on the fabled course. Tennis courts were unpopulated, and the swimming pool was covered. Bleak, right? Not.
Because, baby, it was warm inside the Saratoga Golf & Polo Club as on January 11th 61 members and guests of the Albany Bailliage escaped from winter with a black-tie event in an historic building. Bailli William Harris and his team once again saw to it that Chaine members and guests were treated in grand style.
The building housing Saratoga Golf & Polo was a private residence called "Hylande" and construction was completed in 1914. Chef John Ireland's vision was to replicate the elegant dinner parties presented by the Ostrander family, the original owners of this impressive structure. The high ceilinged dining areas, wood paneled walls, and cozy bar have the undeniably warm feel of an older time.
Arriving guests were greeted warmly by solo guitar music provided by Sten Isachsen of the renowned musical ensemble The Musicians of Ma'alwyck, and a classical string trio from the same organization provided soothing dinner music in furtherance of the elegant theme.
Executive Chef Ireland and his able staff, including Sous Chef Rob Needham and Dining Room Manager Terrie Boisseau, made certain that wintery appetites were calmed by numerous comforting and creative dishes professionally served: a silky buttermilk panna cotta accompanied by roasted squash, pickled date, pea greens, all napped with apple tarragon vinegar. Cheddar cereal? That's right, warm cheddar "milk" poured lightly over "flakes" of potato, chive, and dehydrated cherry. An ocean fresh diver scallop was beautifully presented with clam butter, celery root mousse, and pine oil.
But that's not all, folks! Aged breast of duck appeared next with a pressed confit topped with minced root vegetables followed by another winter-proof dish, mid-rare lamb, country ham, grits, sage, and Stella Vallis Tomme – an artisan cheese from New York's Hudson Valley.
Dessert you ask? Once again imaginatively conceived and presented: fruit, meringue and other embellishments accompanied by an Eden Heirloom Blend Ice Cider from nearby Vermont.
Wine parings were artfully chosen by the Bailliage's own tasting team: an extra dry Vigne D'Oro Prosecco Superiore for the richness of the panna cotta; a Nittardi "BEN" Vermentino 2013 offering just the right mouthfeel and acid backbone for the cheddar cereal; a delightfully fragrant and food friendly Cardone Il Castillo Locorotondo 2013 with the scallop; a lovely Beaune-Greves Premier Cru 2004 from Burgundy to complement the duck breast; and a full bodied and thoroughly satisfying Vietti Scarrone Barbera d'Alba 2005 to ride with the richness of the lamb.
The Albany Bailliage was pleased to acknowledge the presence of Dame de la Chaine Erika J. Berner and Chevalier Bruce W. Dobbins, who are members of Chaine chapters in Abu Dhabi, Dubai, Washington, DC and Vermont. These globetrotters expressed their delight with the dinner and even threatened to return for our next event.
The club's General Manager Ron Ireland (yes, the chef's dad!) kept his watchful eye on it all, and participants reentered the real world at 17 degrees protected by the comforting afterglow of fine food, delicious wines, and true friendship.