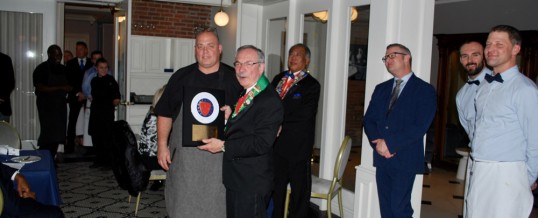 The Blue Hen Restaurant
November 4, 2018
Article by William M. Harris, bailli and Christina Richards, vice chargée de media sociaux
What does 28 million get you these days? In 1877 well-heeled vacationers sought luxury in Saratoga Springs and were eventually rewarded with the completion of the Adelphi Hotel, a venue that served as a Mecca for the mucky-mucks of society. Years passed and by the 1990s, this once celebrated Grand Dame had grown tired and shabby, maintaining only a scintilla of its former glory. New owners arrived upon the scene, invested considerable capital and, voila, a thoroughly chic, gorgeous and modern venue was created.
On Sunday, November 4, 2018, Albany members and guests, 57 in all, were welcomed into this luxurious hotel that houses The Blue Hen Restaurant. The dinner was a sell out, due in part to the venue and the reputation of the Executive Chef, Chris Bonnivier, a long-time friend of our bailliage.
The reception took place in an outside terrace adjacent to the dining room. Thankfully, heat lamps were on hand to provide much needed warmth, although the bubbly, cocktails and convivial conversation also contributed to the cozy atmosphere. Nicely presented butler passed oysters, baby lamb chops. lobster purses and other exotic offerings abounded, while talented guitarist Zack Cohen provided background music.
At the conclusion of the reception, we were invited into the dining room, a conservatory that created the sensation that one was ensconced in a keepsake water globe with the night sky visible in every direction. The blaze of the torches on the now emptied terrace danced gently against the conservatory's glass walls.
The menu was extraordinary, comprised of many of our favorites (scallop, foie gras, squab, duck and lamb), but each enhanced by multiple ingredients with flavors and textures that demonstrated Chef Bonnivier's artistry and skill. With surgical precision his decorative arrangements and swooshes were a work of art. Of equal note were the wines from the Albany Chaine cellar where French Grand Crus and 1er Crus were in ample supply.
And if our senses did not have sufficient stimulation, performers from Opera Saratoga thrilled us with arias and show tune selections between courses.
Whether it was the theatrical operatic performance that touched our souls, the edible offerings of the chef or the magnificent wines, it was a perfect rendition of a Chaine dinner and one that surpassed any preconceived notion.