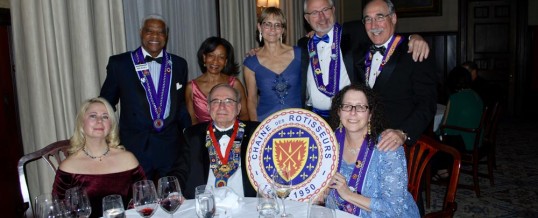 A club where there is no "white wine"
Article by Christina Richards, vice chargée de medias sociaux
On Sunday, February 18, 2018, 29 Albany Chaîne des Rôtisseurs members and 16 guests were welcomed to a handsome brick building on Washington Avenue in Albany, home to the historic Fort Orange Club. In July of 1880, the Albany Evening Times opined "there was not a clubhouse in the country more pleasantly located, appropriately and richly furnished". A club of "elevated character, worthy of the city and faithfully maintaining a high standard," which is exactly what Executive Chef Jared Millwood demonstrated throughout the evening.
The west lounge set the backdrop for the welcoming cocktail reception. The grand fireplace gently hugged us, while we sipped on bubbly or cocktail of choice. The sweetest songs of Ann-Marie Barker Schwartz on violin and Norman Thibodeau, the flautist, played in the distance. The friendly staff butlered tastes of seared tuna, red peppers with wasabi and micro greens served on a cracker, a pan seared artichoke heart piccata, and lox with cream cheese presented upon an English cucumber vessel.
The energy of the room transitioned toward the main dining room. It seemed as though the fireplaces kept getting grander as we moved about the rooms. The generous main dining room fireplace cast just enough heat and ambiance to light the room. As everyone nestled into their seats, the culinary team called upon their seasonal knowledge to set the stage. It was evident that the ingredients utilized were in peak season and the kitchen's execution was flawless. The wines paired perfectly without over singing any one dish.
The menu took us not in one direction, but on a culinary exploration. East coast seared diver scallops were served alongside lobster risotto, crispy leeks and parsley oil. The knowledge of curing and preserving was evident in the second course, with a Greek Isles inspired preserved lemon adorning a zucchini-artichoke cake, cucumber raita, and cilantro micro greens. Then across the Atlantic to France for a traditional preparation of grilled quail, sweet potato roulade, plus roasted poultry stock with currants and rosemary to coat our tongues. Next came a house paté of pork, duck, and fallow deer on a crostini, triple cream brie and palatine cheddar. Swept into the Canadian wilderness, our mouths were blessed with grilled elk rib loin, whipped Yukon golds with Great Hills blue, haricot vert and black pepper glace diviande. Walnut and pecan Baklava, paired with house made Meyers Rum ice cream, was a fitting conclusion to our meal.
Dinner was an eclectic group of plates that seemed to fit the prominence of the room. Wine commentaries by three professionals were provided in a playful banter that had the entire room engaging in their own thoughts. We were taught that there is no such thing as "white wine" as each one carries its own nuances to be adored and evaluated, and that each wine reacts uniquely to the flavor profile of a different course. The lesson: One size does not fit all.
Slowly, as time passed, the main dining room once filled with bright light, energy, warmth and laughter faded as the fire withered to coals and the Fort Orange Club said farewell to its guests, because goodbye would be too final.