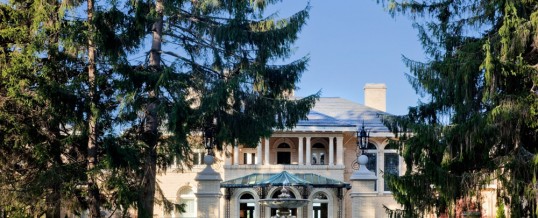 An Elegant Interlude
September 23, 2018
Article by William M. Harris, bailli
Talk about classy, elegant and Chaine worthy. On Sunday September 23, 2018, 24 members and guests of the Albany and Boston Baillages gathered for what can only be described as an extraordinary dining experience at the historic Wheatleigh Hotel and Restaurant in Lenox, Massachusetts. This was the second time these two Baillages had teamed up at this venue and expectations were very high based upon our prior experience three years ago. The festivities kicked off in the late afternoon with a Champagne reception featuring bite-sized hors d'oeuvres that were as attractive as they were tasty. Next came an induction ceremony that came as a complete surprise to the inductee, Susan Melnikoff, from the Albany Bailliage. Boston Bailli Marshall Berenson officiated with his usual wit and charm and soon a thoroughly thrilled Ms. Melnikoff was proudly wearing the ribbons of a Dame de la Chaine.
Following the induction we repaired to the Portico, a room offering dramatic views of the Berkshire countryside on three sides and adorned by majestic Ionic columns extending up to the 15 foot ceiling. Executive Chef Jeffrey Thompson had crafted a seasonal tasting menu especially for our group and his exceptional courses were accompanied by French wines from the Albany cellar, from Keith Edwards' vast holdings and from the restaurant's reserves. The food was exquisite, the wines first rate and warm camaraderie abounded.
At the conclusion of the dinner, Boston Bailli Marshall Berenson awarded Chef Thompson with a Chaine plate, pins were distributed to the culinary team and waitstaff and a Chaine plaque was presented to Albany Officier Keith Edwards by Baillis Harris and Berenson for his contributions to this most successful dinner.