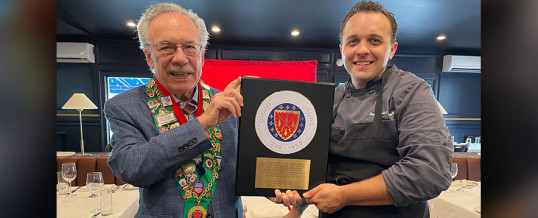 Siro's Restaurantt, Saratoga Springs, NY
Article by Ilona Weisman, Vice Chargée de Presse
Photos by William Harris, Bailli
When Saratoga Racecourse opened in 1864 it was a scene of gentility. Women wore hats with ribbon streamers, dresses with pagoda sleeves, hoops and crinolines swayed beneath wide skirts. Menswear featured plaid trousers sometimes in garish colors owing to the invention of aniline dyes ten years before, and frock coats had given way to the new, less fitted sack jacket. Straw boaters and derby hats could be seen bobbing above the crowd, and mutton chops were all the rage. Rare the punctilious dress today except for a few stalwarts, but a tradition of refinement lives on across from the racetrack's front gates at Siro's Restaurant, which was the scene on August 29th of the Albany Chaîne's late summer fête.
In 1945 Jimmy Siro, then maître d'hôtel at the Waldorf Astoria in New York, traveled upstate and decided to stay. He brought with him the flair that was Peacock Alley where Park Avenue matrons took tea – the same pedigreed set that migrated to Saratoga for the racing season. More than 75 years later Siro's is a summer institution, a post-race must for locals, trainers, jockeys, owners and celebrities who party into the night to live rock and roll on the restaurant's jam-packed sweeping patio. The nation's fourth oldest sporting venue, Saratoga Racecourse runs from mid-July to Labor Day with races scheduled Tuesday through Sunday. Siro's season mirrors that of the racetrack, unique in that the restaurant is closed the rest of the year. On this day the track was 'dark,' and the Albany bailliage had the place all to itself.
CIA-trained Chef Eliot Vogel, signed to a summer contract by Siro's, plied his art in a quest for what he calls 'clean cooking'—that is, the application of classic French technique to the contemporary table. Hors d'oeuvres included veal consommé, diminutive lobster cakes with remoulade, oysters—both Rockefeller and on the half shell—and brown butter cod with sauce vierge. Seafood "Trifecta" greeted us at table; brilliant hued beet-cured gravlax encircled prawn and dill salad with fresh corn niblets, topped by a generous dollop of Osetra caviar. Ample fruit in 2021 Boundary Breaks Riesling Reserve "198" (a winery visited by the recent Northeast Assemblage in the Finger Lakes) neatly offset the pleasantly salted seafood.
Paper thin venison carpaccio with nutty mimolette, shaved black trumpet, and apple gastrique was a fit for the finesse of 2005 Joseph Drouhin Gevrey-Chambertin. An "Exacta" of succulent foie gras with lentil amandine and Grand Marnier bigarade was a double winner indeed. The fortified wine made pairing with Sauternes a non-starter; however, the 2021 Boundary Breaks Cabernet Franc was a surprising and agreeable match instead. An intermezzo showcased hand melon, a Capital Region delicacy served with prosciutto. Grown exclusively by two farms in the area and served only during track season, the melon's flesh looks like cantaloupe though with a more delectable, silken texture. An entrée of Waygu striploin and crispy soft-shell crab in sauce choron aligned with a plump Rhone wine, the sauce's acid and herbs a foil for the rich berry flavors in the 2018 E. Guigal Crozes-Hermitage.
Our night in sight of the iconic racetrack concluded with Fromage "Superfecta," Chambord Chiffon and mignardises. One such bite was a clever little confection with chocolatized basil in the center. And oh yes, Graham's 10-Year Tawny Port was poured for a fine end to a luxurious evening. I would do it all again next year – but that leaves just ten more months to find a hoop skirt with crinolines.