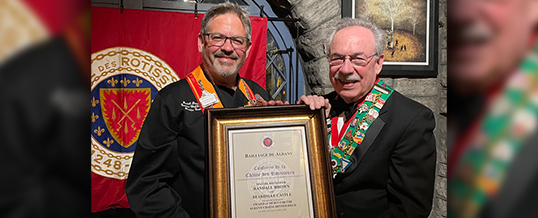 Ghosts and Gourmets at Beardslee Castle
Article by Ilona Weisman, Vice Chargée de Presse
Photos by William Harris, Bailli
Beardslee Castle in Little Falls, New York is the most haunted place in the state. Ever the intrepid band, the Albany Chaîne bussed 70 miles to the restaurant on May 21st for dinner with a theme—Forage, Funghi & Fire—hosted by professional member and chef/owner Randall Brown. Armed with a degree in Computer Science, Chef Brown marched off to join the fine dining business 40 years ago. He wore myriad hats from barman to chef to front-of-the-house before opening Beardslee Castle in 1994. A replica of an Irish castle built by Augustus Beardslee before the Civil War, the stately mansion boasts oak ceilings, arched casement windows and muscular limestone walls. It is beloved for its antique character and for Chef Brown's imaginative cuisine. And ghosts.
Long before Beardslee Castle was a finalist on SyFy Channel's Ghost Hunters it had paranormal creds. Employees and visitors reported chairs that moved unaided, airborne dinner napkins, disembodied voices. Figures that vanish in the woods, a vapor of a woman in an upstairs hall—all link to the castle's past. In 1750 a French fort on the site was raided by a night party of Mohawk Indians in search of an underground cache of gunpowder. Their torches ignited the gunpowder, and the interlopers died in the explosion. Fast-forward to 1944: Anton Christensen converted the castle to a restaurant, but disheartened by failing health later hanged himself in the side entrance. Locals claim that Augustus Beardslee's ghost patrols the grounds for vandals who plundered the family mausoleum and took his skull.
The ghosts must have wafted away when the Albany Bailliage rolled in because the only thing otherworldly that evening was the fare from Chef Brown's kitchen. Yes, drinks and hors d'oeuvres took place in The Dungeon, though clanking chains were still as the bartender poured Champagne Billecart-Salmon Rose and Millbrook Vineyard Tocai Friulano Hudson Valley 2021. Small bites floated through the bar—but on trays carried by servers who, I might add, were plainly visible and remained so. There were feta and watermelon canapes precision-cut into dainty cylinders, salmon mousse in petite cones, porcelain spoons filled with bay scallops and velvety Brie cream, and escargots on a thumbnail puff of pastry.
Chef Brown has featured foraged items—mushrooms, ramps, nettles, fiddleheads—since the restaurant began. Dinner opened with seared diver sea scallop amid a stage set of leprechaun green: fat, juicy asparagus with crunchy fiddleheads and ramp pesto, nasturtium and mizuna leaves snipped from the castle's lawn, or as the chef says "backyard-to-table." Next came a 'mushroom crab cake' with a crusty exterior that gave way to moist chunks of lion's mane mushroom inside, partnered on the plate by ethereal ramp tempura. A duo of wines accompanied both courses: Chateau Carbonnieux Pessac-Leognan Bordeaux Blanc 2017 and Alexandre Monmousseau Vouvray "Clos le Vigneau" Loire 2019. Some were staunch fans of the Vouvray with both dishes, others preferred the clean, green notes of the Bordeaux with the aromatic mushroom cake.
Chef Brown wowed us with a savory wedge of lobster cheesecake—dense and smooth, fine-tuned by a dollop of caviar crème fraiche—accompanied by a satiny Mt. Eden Chardonnay 'Domaine Eden' Santa Cruz Mountains 2019. Hewing to the foraged/forest motif, a fourth course was lasagna, an impressive construct of neatly layered morels, black oysters and sliced potato, richly rewarding paired with Tenuta di Sesta Brunello di Montalcino 2010.
After a playful refresher of dandelion sorbet (thanks again to the castle's lawn), tenderest sliced lamb ribeye smoked with rosemary and pine needles set us on the roof. A luxurious rhubarb amaro demi-glace and a tad of sumac made the most of deep berries and spice in Turley Dusi Vineyard Zinfandel Paso Robles 2016. The dining room still echoed with oohs and aahs when dessert arrived, red Anjou pear poached in hard cider with agave whipped goat cheese and a glass of Chateau Giraud Grand Cru Classe Sauternes 2010. Mayhap the shadowy figures are nothing more than mists rising from the Mohawk River. But if they be remnants of troubled souls long gone, those ghosts of Beardslee Castle are daft to skip such a remarkable dinner. Hmm, anyone know if ghosts eat?