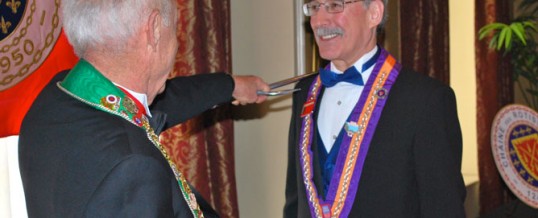 Seventy-five members and guests of the Albany, NY Bailliage gathered for the annual induction ceremony held this year at Schenectady County Community College on May 18. Twelve new members of the Chaine participated in the traditional ceremony led by Officier Provincial and Chambellan Frank Tate and Bailli William Harris.
The event was framed as a tribute to the memory of Nicole Plisson Rosenbloom, a beloved Chaine member, esteemed Albany restaurateur, and source of inspiration to many chefs and restaurant owners now working in the Capital Region of upstate New York. Her husband Chevalier Carl Rosenbloom took part.
Numerous media and other accounts of her life and untimely passing in July 2012 document her courageous battle against cancer and her loving and sagacious advice to cancer victims and their families.
Of course, honoring a vivacious and accomplished chef, entrepreneur, mother, and grandmother born in what she called "Sancerre Country," France's Loire Valley, called for a truly Francophilic evening of food, wine, and entertainment.
Four incredibly talented and skilled chefs, all with working connections to Mme. Plisson, prepared an array of five mouthwatering French inspired hors d'oeuvres preceding a seven-course dinner extravaganza.
The reception menu included such delicacies as rillettes de lapin in endive spear, bruschetta three ways, mini steak tartare, frog leg lollipops, and deconstructed coq au vin vol au vent. Two Champagnes, Piper-Heidsieck Brut and a Grand Reserve Vilmart Brut were poured along with a 2012 Macon Recolte, Bourcier-Martinot.
Wines were adeptly paired with all the courses by the Bailliage leadership team working in concert with the chefs: Dominique Brialy of the Epicurean Wine Bar and Bistro; Dan Smith of Jake Moon Cafe; Tim Vennard and Jaime Ortiz of the Mazzone Hospitality Group.
Dinner was as French as French can be. Dominique's Escargots de Bourgogne was matched with a 2013 Bieler Rose from Aix en Provence and his delicate and satisfying Boudin Blanc with essence of truffle was paired with a 2012 Vouvray from Pichot. The Vouvray carried over to Dan's sweetbread Napoleon with blood orange and ginger glaze. Dominique picked up the banner again with a moist and fragrant dill and pistachio crusted sole roulade served with a Sancerre that Nicole would love, the 2012 Lucien Crochet.
The final three courses came from the heart of the Mazzone network. Chef Jaime wowed and tantalized us with hot and cold foie gras, one in the form of a torchon with sea salt, cherries, and sauternes gelee and the second seared with brioche French toast, kumquat preserve, and lavender honey. An elegant and complex 2005 Chateau Rieussec Sauternes 1er Grand Cru from Graves was the perfect accompaniment. Tim Vennard presented Dijon and rosemary encrusted rack of lamb to pair with a vibrant and herbal 2009 Chateau Rollan de By Bordeaux from the Medoc. The chops were perfectly cooked to a lustrous pink and complemented by roasted garlic glace de viande, gratin daupinois, and haricots verts with hazelnut butter. Jaime was at the controls again for dessert, his rendering of Tart Tatin with cinnamon crème glacee and calvados reduction.
And that's not all, folks. Nicole Peyrafitte, an internationally renowned chanteuse, performance artist, poet, and cook presented a nearly continuous multimedia, multilingual mélange of images from her dear friend Nicole's life as well as words, song, music, and finally, an hilarious demonstration of how to correctly prepare whipped cream for the delicious dessert.
Ms. Peyrafitte was accompanied by Sonny Daye on keyboards and his singing partner and spouse Perley Rousseau. Their moving and heartfelt rendition of Edith Piaf's iconic "Je ne Regrette Rien" brought out handkerchiefs and served as a fitting coda for remembering Nicole Plisson.
Our professional wine and food servers came from the chefs' establishments supported by SCCC's student volunteers encouraged by their professors Jay Larkin and Kim Otis, themselves new Chaine inductees. David Brough, Chaine member and Dean of SCCC's School of Hotel, Culinary Arts, and Tourism, offered a watchful eye and helpful hands.
It was an evening to remember and hold dear.