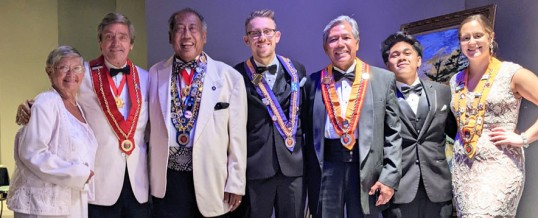 August 21, 2022
"Induction Dinner – Submersion of Art & Food"
[farmacy] restobar
Article by Ilona Weisman, Dame de la Chaine
Photos by Argentier Holly A. Katz, Vice Chancelier, Ilona Weisman, Dame de la Chaine, Christina Richards, Vice Chargée de Médias Sociaux and Chef Colin Minor
It was a steamy August afternoon in Glens Falls, New York. Smoke! Smoke! Smoke filled the museum.  Firefighters and their trucks blocked entry as the Albany Chaîne des Rôtisseurs arrived for an Induction Gala.  The plan was to start with private tours of The Hyde Collection and a reception in the museum's Italianate courtyard. But a plan delayed is not necessarily a plan denied.  Thus members, guests, and inductees loitered outside in black tie and ribbons, as docents entertained the crowd with the story of the Hydes and their art.
Charlotte Pruyn, the daughter of industrialist Samuel Pruyn whose lumber and paper mills were the economic heart of Glens Falls, married Boston attorney Louis Fiske Hyde in 1901. Five years later Charlotte's father convinced Louis to leave his law practice for the family business. The couple moved to Glens Falls and built Hyde House in the style of an Italian Renaissance palazzo. Charlotte's sisters built homes on either side, forming a family compound of wide lawns, stone walks and elegant gardens, the scene of local picnics, weddings, ice cream socials and theatrical performances.
The Hydes filled their new home with historic furnishings and art–old masters Rembrandt, El Greco and Botticelli–newer works by Picasso, Degas and Cézanne and important American artists such as Winslow Homer and Whistler. By the time Louis died in 1934, the Hydes had amassed a renowned private collection. In 1952 Charlotte created a public trust and bequeathed her home and its contents to the community. The museum, opened in 1963, stands distinguished today for its fine examples of European and American sculpture and painting, furniture, and books.
A 1989 expansion added four new galleries for contemporary works. Current exhibits feature sculpture by local artist John Van Alstine, and illustrations by Mexican lithographer Jose Guadalupe Posada, whose signature skeleton characters delivered acute satire and political broadsides, influencing later Latin American artists Diego Rivera and Frida Kahlo.
But back to the plan delayed. When the fire marshall gave the all clear sign, the confrères entered the museum's ornate courtyard. In the generous shade of potted palms and marble statues, champagne and small bites soothed the hot and thirsty, a violinist played, and 19th century tunes echoed through the halls.
The refreshed crowd shifted next to the Induction Ceremony and dinner at the nearby Charles R. Wood Theater, a performance and event space in a renovated former Woolworth's building. Guest of honor Bertrand de Boutray, Bailli Délégué of the United States, performed the inductions and parsed the meaning of the Chaîne logo. Ten new members received their ribbons, among them Chef Sonny Soemarsono. 
The evening's theme was Submersion of Art & Food, developed by Christina Richards, Vice Chargée de Médias Sociaux. The art portion was fulfilled by our tour of the Hyde and followed by a stunning display of local art at the Wood Theater provided by Sue Beadle from the Mountain Gallery. Dinner was truly eight courses of art on a plate, the work of Chef A.J. Richards, Maître Rôtisseur and proprietor of [farmacy] restobar in Glens Falls. A velvety sous vide 65-degree egg yolk was attractively perched atop toasted brioche, garnished with caviar and accompanied by Château Lamothe de Haux Bordeaux Blanc 2020. Delicate poached halibut nestled with saltwater foam and enoki tempura—flaky, briny, and crunchy paired with Château-Fuissé Pouilly Fuissé Tête de Cuvée 2019. The ever-popular Caymus Vineyards Cabernet Sauvignon 2013 measured up to an ebullient barbacoa ribeye topped with radish green mojo. A cheese course of triple crème, blue cheese and honey was graced by Joseph Faiveley Gevrey-Chambertin 2007, the potent classic with dark fruit and broad finish.
To everyone's delight dessert was chocolate times three: flourless chocolate cake, chocolate mousse, and ganache with a sparky sidekick of beet-orange ice cream.  In the words of the late Charles Schulz, "All you need is love, but a little chocolate doesn't hurt." Well, lots of chocolate doesn't hurt either, the final brushstroke of Induction Day 2022. It was an escapade with a smoking hot start (literally), an Old World respite, ended with a standing ovation for Chef Richards and his talented young staff and sous chefs for a food adventure of painstaking detail and excellence.