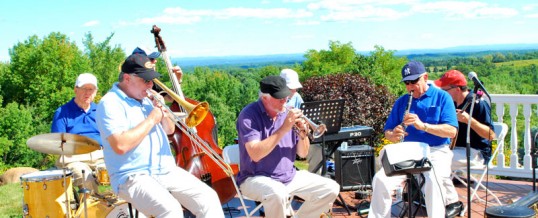 If You Can't Beat 'Em, Join 'Em!
That's exactly what 60 conferes and guests did on 09/07/2014, a perfect end of summer day! Summoned by Bailli Bill Harris with the traditional letter of invitation, rather than a Twitter blast, we arrived at the spectacular Voorheesville home of Dame de la Chaine Chick Led Duke to partake in the food truck phenomenon that has been sweeping the nation since Roy Choi first served his Korean short rib tacos from a truck in LA in 2008. His fusion of cooking styles and genres, using gourmet ingredients, has inspired fleets of similar trucks. This trend, which sells great food as well as a social experience, provides access to different types of foods for patrons and is a win-win all the way around!
Chick greeted us at the door with flutes of Mumm Napa Brut Prestige, pointing the direction to the outdoor area at the back of the house with a sweeping view that took in the Empire State Plaza and the Helderberg Mountains. Skip Parsons and his Riverboat Jazz Band were perched on an overlook playing festive tunes for our enjoyment. Three food trucks, offering a good variety of specialties, were the stars of the show. Mike Gordon of Thunder Mountain Curry turned out to be quite a performer! He provided running commentary, as well as a spicy pad thai, composed of no less than 30 ingredients. Each plate was custom made based on the level of heat one could tolerate. His partner in delicousness, Mike Meade, dished up a crispy pakora of onion in rice and chickpea flour, accompanied by three tasty chutneys.
Next in line was Greek on the Run, aka My Big Fat Greek Truck, with Colleen and Nick Efstathiou at the helm. Their menu consisted of beef, lamb or vegetable gyros (with tzatziki sauce, of course), hummus, stuffed grape leaves, chicken souvlaki and falafel served two ways. All of the ingredients were as fresh as can be and the preparations spot on. Everyone's favorite, baklava, rounded out the offerings.
Not to be outdone, David Britton of Pies-On-Wheels, assisted by his son, Davin, delivered a range of treats from his wood fired oven including gourmet pizzas with blistering, bubbling crusts along with grilled olives and clams. His rotisserie produced succulent chicken, pork, quail and duck. A half dozen different wines from the bailliage cellar, including an outstanding 2004 Drouhin Gevrey Chambertin and a delightful 2011 Monchiero Carbone Recit Roero Arneis, complemented the dishes.
Towards the end of the afternoon, we heard a sound well remembered from our youths: that oh-so-sweet tune of the Mr. Ding-a-Ling ice cream truck. Although there were dozens of frozen treats to choose from, most of us picked our childhood favorites and headed home with smiles on our faces.