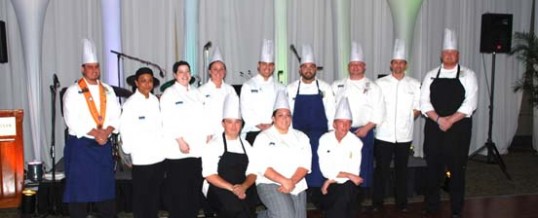 On Sunday, June 3rd nearly 70 members and guests of the Bailliage of Albany put down a bet at Saratoga Springs, New York – not as you might guess at the historic Saratoga Race Course, but rather at the Gideon Putnam Resort and Spa, now operated by the Delaware North Hospitality Management Company.
We were betting on a sure thing: a spectacular evening of fine food, artfully paired wines, music, dancing, and laughter. To mark the induction of 10 new members and to honor a new Commandeur, the Bailliage leadership team (Bailli Bill Harris) and the Gideon Putnam staff (Chef Rôtisseur and Executive Chef Brian P. Sterner and Director of Sales Tom Wysocki) laid it all on the line and won a rich payout in an event entitled Decades: A Look at History Through the Eyes of the Past.
As guests entered the venerable hotel, they were guided past photomurals depicting Saratoga's rich history from the American Revolution to the present day while enjoying a prime tenderloin beef tartare station with all the classical accoutrements, including toasted baguette, egg, onion, and capers.
Then it was on to the lovely Arches, a glassed-in room that looks out on the beautiful wooded lawns behind the Gideon. Somehow this familiar bright open space became the intimate and swankily dark Cotton Club tricked out in stylish speakeasy decor complete with the jazzy Ray Alexander Trio pumping out tunes from the 1920's and 30's. To ward off thirst, specialty cocktails created for the occasion by the Gideon's mixologists and Champagne were available without even having to say "Joe sent me." Passed hors d'oeuvres included escargots en bouche, risotto croquettes, Niman Ranch pork belly and offal meatloaf.
From the Cotton Club we moved forward to the 40's and 50's in the lovely Garden Room where traditional Chaine induction ceremonies were conducted by Chambellan Frank A. Tate with the assistance of Conseiller des Bailliages des Etats Unis Honoraire Joel M. Spiro, Officier Maitre de Table Restaurateur Dominick H. Purnomo and Albany Bailli William M. Harris. In addition to welcoming ten still wet behind the ears "newbies," the Bailliage acknowledged Maitre Rotisseur Thomas Dorato's 20 years of membership by presenting him with the prestigious Commandeur badge.
Now it was time to celebrate with dinner and wine, or so we thought. Somehow it was necessary to spend a little time before the dining room doors opened in an all white Deco Moderne lounge area where a cigarette girl and a very tall pourer sent Ketel One Vodka sliding sensuously down an ice luge created for the occasion.
As the volume of laughter and good feeling approached the red line, we entered astunningly decorated futuristic dining room. White draperies on the walls and chair backs accented with black, white charger covers, slender table lamps with shades, sparkling glassware and shiny utensils were enhanced by theater-quality lighting installed especially for the occasion. For those of us familiar with the meeting room complex at the hotel, we were truly entering another world. Even before the first course went down, the dance floor was alive with Dames et Chevaliers strutting their stuff to the retro and contemporary tunes of The Mix, a talented and lively five piece combo.
The meal itself honored the evening's theme, familiar dishes and flavors in new guises.
A chilled beet and vichyssoise duet paired with a young Roero Arneis Recit from the Piedmont drew "oohs" and "ahs" for both appearance and taste. Sole tonnato, pickled ramps and a sweet sous vide tomato were married happily to a minerally 2010 Vincent Dampt Chablis. A bacon and arugula salad with lemon dressing (drizzled by servers from a French press) was paired with the Chablis carried over from the prior course, and adding to the fun a 2009 Equis Cornas from the Northern Rhone joined the party, the bacon and smoky Syrah keeping excited company.
And that's not all. Chef Sterner's "interactive" veal oscar let us assemble the parts ourselves as we admired the bundled tiny asparagus, crab meat on a chip, veal roulade, parisienne potatoes, and a silky tarragon laced sauce. A 1994 Clos du Mont Olivet Chateauneuf du Pape showed enough spicy Grenache to accent the key flavors of the dish. Those who retained a taste of two of the Cornas from the prior course were rewarded for their restraint and foresight, as that wine also worked with the veal. Then from Joseph Drouhin, a 2004 Cotes de Nuits Village nicely complimented a cheese
course featuring regional specialties such as Nettle Meadow Kunik, Old Chatham Ewe's Blue, Twin Maple Hudson Red, and Caraway Alpine.
"Transcend" was an aptly named dessert prepared by Pastry Chef Frank Vollkommer of the Chocolate Mill Cafe in Glens Falls, New York. This architectural goodie rose nearly five inches from its base of crispy meringue sticks topped by pistachio financier, a disc of strawberry parfait, and a brandy tuile, all accompanied by rhubarb compote, tiny cubes of glistening golden Champagne gelée, and a swirl of chocolate. This confection paid off across the board by looking fabulous and tasting even better.
And on they danced, laughed, and rejoiced in the camaraderie of a memorable induction evening. The Putnam Bar and Restaurant just off the Gideon's main lobby was packed late into the night with ebullient Albany Bailliage people who not only know how to make a winning bet or two, but how to throw a party and catch it too.