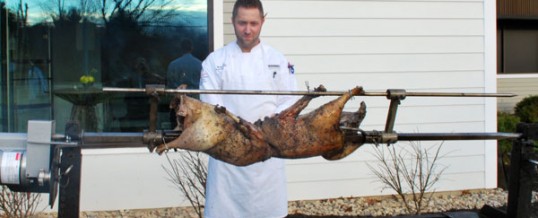 Restaurateur and entrepreneur Angelo Mazzone never ceases to amaze us! When we heard that he was opening a new corporate headquarters and the first event would be this Chaine dinner, we were honored and excited to see what he and his team had in store for us. Sixty members and guests eagerly arrived at his first class facility on November 9, 2014, and were greeted by a sight very reminiscent of our Chaine origins- a pair of succulent geese roasting on a spit at the entrance and tended to by Chef Rotisseur Will Brown.
The event was billed as "A Tasteful Introduction to Mazzone Hospitality's Corporate Headquarters." The décor was Adirondack elegant and the menu, developed and executed by Matt Delos, soon to be Chaine member and currently Executive Chef of Mazzone Catering, featured locally raised game with a combination of flavors and ingredients that served to tie all of the courses together seamlessly. The opening reception set the theme with the aforementioned roast geese supplemented by an unbelievable array of hand passed and stationary delicacies, including wild boar, whiskey cured gravlax, duck confit pizzetta, grilled northern pike salad and an endless assortment of salumi and pates. Many commented that the hors d'oeuvres alone were more than sufficient for an entire meal. To ensure that no one went thirsty, a full bar was offered as well as the delightful Domaine Jean-Michel Guanoux Meursault 2010, and sparkling Louis Roederer Champagne Brut. Drinks and hors d'oeuvres in hand, we took guided tours of the just-opened structure which includes two kitchens – one for catering and one for demonstrations, tastings and teaching.
The first course of hand rolled pheasant meatballs was served over pumpkin polenta, cippollini onions and roasted plum tomatoes. Professionnel du Vin Joseph DeFronzo furnished a lovely Conati De Marco Conati Lugana, 2011, with peach and melon notes and an undertone of mint and flowers that paired well with this dish.
To test our palates, two wines accompanied the next course of grilled quail with baby arugula, crispy pancetta, roasted pears and port wine. The Sbragia Gamble Ranch Vineyard Chardonnay 2010 tasted of oak, butter and caramel. Since birds and Burgundy go together, our other wine was a Joseph Drouhin Cote de Beaune-Villages 2004. We were hard pressed to pick a favorite.
Tortellini of rabbit with sweet peas, oyster mushrooms and baby carrots in a rich rabbit broth gave us a chance to try another Conati wine from Mr. DeFronzo's warehouse. This time it was the Rosso Di Marco Veronese 2007, recently served at George Clooney's wedding. Good enough for George, good enough for us!
It was time to test our palates again, so a dish of smoked bacon-wrapped loin of venison arrived with the smoky Chateau Carbonnieux Grand Cru Classe Graves 2005, and the powerfully juicy Chalk Hill Cabernet Sauvignon Sonoma County 2003. Both worked well, but it was great fun debating the merits of each!
Dessert was an artful banana walnut bread pudding with Adirondack bootlegger sauce, cranberry compote and house dried banana chips. Kudos to Angelo, Executive Chef Matt Delos, Sommelier Seaborn Jones, Maitre d' Danielle Robinson and the entire Mazzone team who made this a truly spectacular event!