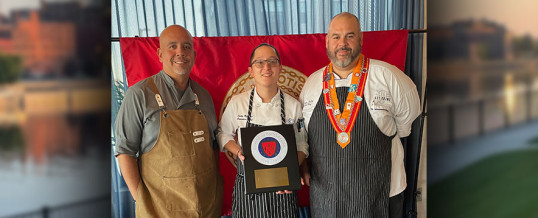 Sea Smoke Waterfront Grill, Troy, NY
Article by Ilona Weisman, Vice Chargée de Presse
Photos by William Harris, Bailli
Ask Maître Rôtisseur Jamie Ortiz why he named his stylish new restaurant Sea Smoke, and he'll tell you he was transfixed by mists rising from the Hudson River at dawn. Once the head corporate chef with Mazzone Hospitality, Ortiz has since taken over all but the catering business from his former employer. Ortiz's latest project—Sea Smoke Waterfront Grill in Troy, New York—is a seafood triumph in a landlocked region. And there, under a flawless sky on October 1st, the Albany Chaîne gathered at the edge of the Hudson River for the chapter's first dinner of the fall season.
Sea Smoke's covered patio on the river lies just across from historic downtown Troy, a panorama of nineteenth century buildings where HBO filmed The Gilded Age. But turn your head to the left and you'll see the Green Island Bridge towering over the riverscape, sheathed in silver steel like a massive robot. One of fewer than 70 vertical lift bridges in the United States, its silhouette grabbed the local imagination in 2014 when students from Rensselaer Polytechnic Institute and Russell Sage College, armed with a design by graphic artist Ben Karis-Nix, painted a mural on the Troy side overpass. It depicts the bridge as a genial automaton clearing storm damage from a city besieged by water. The creature is called "TroyBot."
Dinner from Executive Chef Cody Nguyen was a stunning parade of delights from the sea, led by an amuse bouche of raw oyster in ginger and scallion. Accented by lime foam and cranberry mignonette, the zesty flavors complemented Albert Bichot Crémant de Bourgogne Brut Reserve. An imaginative first course paired Campari-cured fluke with crispy garlic, chili oil and brûléed figs, vivid alongside the generous fruit in Hermann J. Wiemer Semi-Dry Riesling 2021. The succulence of crispy octopus set atop white bean tonnato with a spoon of arugula pesto was apt partner to Alexandre Monmouseau Vouvray "Clos le Vigneau" 2019, the wine's acidity softened by ripe apple tones.
Borrowing from Italian tradition, Chef Nguyen presented lobster two ways; gnudi deftly crafted from ricotta and semolina, and grilled lobster tail seated in tomato-hued lobster reduction. Yet those hearty flavors were playful enough to pair with Adelsheim Pinot Noir Willamette Valley 2021, an elegant lighter-bodied selection with aromas of cassis and herbs. A bracing intermezzo of citrus and basil was followed by an entrée of venison and steelhead trout with balsamic roasted grapes in hickory broth. The surf and turf combo allowed for two wines—The Prisoner Chardonnay Carneros 2021, creamy with hints of vanilla and pineapple—and a Rhone wine, the Domaine Notre Dame des Pallières Gigondas 2015, rich with jammy fruits from winemaking cousins Jean-Pierre and Claude Roux. Dessert came housed in a diminutive tin filled with tiramisu decorated by gold leaf and a 'caviar' of crunchy espresso beads.
Notes on The Players
Chef Nguyen, who will be joining the Chaîne as a Maître Rôtisseur, was assisted in the creation and execution of this dinner by Maître Rôtisseur Ken Kehn (Executive Chef at 677 Prime), JO Restaurants Wine Director Sheila Burke and General Manager Edward Piluso, all under the watchful eye of Jaime Ortiz, whose welcomed influence was apparent.
Kathleen Parker, global traveler back in the Capital Region once more from her regular gig with the Hong Kong bailliage, distributed several commemorative pins obtained at a recent dinner she attended given by the Bangkok Chaîne.
Soon-to-be-inducted Rick Miller held court at a table by river's edge that afternoon, pouring samples during cocktail hour of an eponymous bottle from his own cellar—Sea Smoke Ten Pinot Noir 2019. Wherever did you find that Sir Rick?