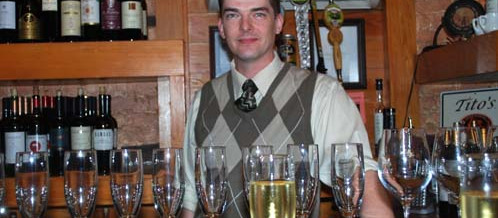 In the midst of a busy restaurant season full of weddings and graduations, 10 members and guests turned out at The Wine Bar and Bistro on June 10, 2013 for our second Professionals Only event. Chef Rotisseur Kevin Everleth, Chef/Owner, greeted us in the bar of his restaurant which is located in the area often referred to as "Albany's Greenwich Village." The basement setting and decor of exposed brick, three fireplaces, custom-made wooden tables and local art provided a very cozy atmosphere on this rainy night.
Hors d'oeuvres of endive filled with chicken liver mousse and topped with fig chutney, fingerling potatoes featuring smoked salmon and caviar, and beef tartare dressed with miso mustard jump- started the meal. We washed these tasty morsels down with a light bodied, very bubbly, Francois Montand Brut. We were off to a good beginning as our spirits lifted in spite of the dreary weather!
For the first course, Executive Chef Nick Ruscitto delighted us with a salad of charred beets, orange segments and lemon ricotta drizzled with a spicy chimichurri. A couple of self-professed beet haters were converted on the spot. Saint-Veran "Les Pierres Grises" 2011, a dry, golden Burgundy that made us smile, accompanied this and the next course of seared scallops resting on a bed of zesty lentils, oyster mushrooms and crispy prosciutto. A caramelized fish sauce served to kick it up a notch, for sure!
The third course was an upscale version of pork and beans. Sausage, pork shoulder, white beans and sweet/sour kale provided an array of tastes and textures. This dish added a homey feel to the dinner. It was ably paired with the highly rated La Atalaya 2010, a well-balanced Grenache/Mourverde blend with ripe fruit and floral notes. Several attendees were ready to run out and purchase a case in order to continue to enjoy its complex nose and long, smooth finish at future dinners. Meanwhile the dinner conversation soared as Officier Maitre Rotisseur Dale Miller and Vice Conseiller Culinaire Yono Purnomo regaled us with tales of their encounters with such luminaries as Julia Childs and Paul Bocuse and outrageous dinner parties at the homes of wealthy west coasters.
Dessert, with the invented, nonsense name of Babarone, was no-nonsense at all! Challah bread soaked in heavy cream and cooked in the oven was topped with berries and vanilla gelato sourced from the bakery across the street. We sipped Marie-Framboise cognac and summarized our experience. We all agreed that this was a great introduction to the classics, updated for the 21st century. Our hosts presented a nice balance of flavors throughout the meal demonstrating both their technical skills and artistry. The bar has been set for the next installment of Professionals Only.