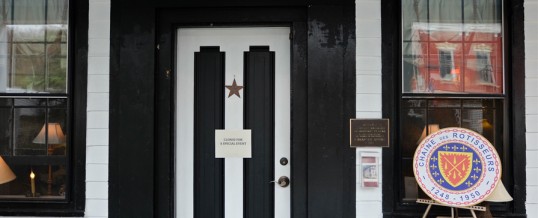 A Memorable Dinner in Sharon Springs – Worth a Trip from Anywhere
Article by Vice Conseillor Gastronomique Stuart R. Horn
Photos by Bailli William M. Harris
Why would 34 members and guests of the Albany Bailliage leave the familiar environs of the Capital District for a black tie reception and dinner in Sharon Springs, a tiny rural village (population 513), 55 minutes away and remembered primarily for the faded and defunct warm sulphur baths beloved by so many European immigrants who travelled there to be cosseted and perhaps healed at hotels long since gone?
The American Hotel – that's why. Rebuilt for a grand opening in 2001, the venue has more recently attracted dedicated food and wine lovers such as Albany Bailli Bill Harris, Vice Chancelier-Argentier Holly Katz, Chevalier Bruce Sowalski, Dame Lorraine Ferguson and Maitre de Table Restaurateur Frank Crisafulli, among others, who have enjoyed lunches and dinners at the hotel after attending the summer music festival at Glimmerglass Opera in nearby Cooperstown.
Hoteliers Doug Plummer and Garth Roberts, General Manager Austin Jetton, and Executive Chef Lee Woolver were delighted to accept the challenge of hosting a Chaine formal dinner in their beautifully restored three-story Greek Revival edifice built between 1847 and 1851. In a few (admittedly clichéd) words, they knocked the ball out of the park.
Bailli Harris, Vice Conseiller Gastronomique Stuart Horn, Vice Conseiller Provincial Yono Purnomo, Maitre Rotisseur Jaimie Ortiz, Vice-Echanson Michael Thompson, and Vice Conseiller de la Toque Dale Miller participated in a pairing and tasting dinner two weeks before the actual dinner that offered its own challenges. Chef Woolver's eclectic menu of Asian, Cajun, German, and Italian inspired dishes threw down the gauntlet for our intrepid tasters.
What wine could we possibly offer with translucent beef tenderloin slices in a complex, aggressively seasoned Vietnamese broth? Vouvray Clos de la Vigneau 2013 from Monmousseau in the Loire Valley. What enhances pan-seared halibut and Maine lobster in a creamy Czarina sauce from New Orleans? A food-friendly Meursault 2010 by Jean-Michel Gaunoux. Bouchard Per et Fils provided the nuanced red Chambolle-Musigny 2005 we needed to complement the earthy and woodsy Duck Breast Jaeger. An Italianate goat cheese Ricotta in Carozza served as our cheese course and paired wonderfully with Jean- Marc Brocard's 2014 Chablis. Dessert of ginger cakes with coconut ice cream cried out for and received the Lusteau East India Solera Sherry, Jerez de Frontera. And the doubters said that it couldn't be done.
"Tonight, tonight won't be just any night" sang Austin Jetton as the first of five Broadway hit tunes he delivered for us and our distinguished guests including Martin Frei, Vice Conseiller Culinaire des Etats Unis Hon., Joel Spiro, Conseiller des Bailliages des Etats Unis Hon. and Frank Tate, Chambellan Hon.
All would agree that our American Hotel adventure wasn't just any night.
Our thanks to Chef Woolver for conceiving and executing a splendid menu, to General Manager Austin Jetton for expertly supervising the front of the house staff (when he wasn't belting out Broadway show tunes) and to Co-Owners Garth Roberts and Doug Plummer for creating such a warm and hospitable environment.