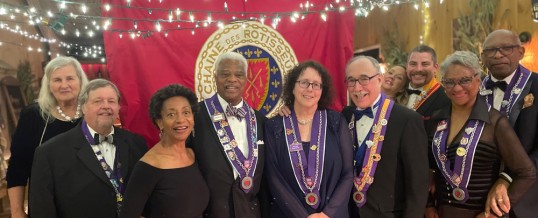 November 6, 2022
"Albany ChaÎne to Farm-And Then-To Table"
The Dancing Ewe
Article by Ilona Weisman, Vice Chargée de Presse
Photos by Bailli William Harris, Chargée de Presse Ilona Weisman, Vice Chancelier-Argentier Holly Katz and Vice Chargée de Médias Sociaux Christina Richards
In gowns, tuxedoes and ribbons, the Albany ChaÎne disembarked their chartered bus, found themselves surrounded by farm fields and greeted by the sounds of baa-aaa-aa-aah.  It was November 6th, unusually mild and humid for the time of year in the Northeast, and we had arrived at Dancing Ewe Farm in Granville, New York for the quintessential farm-to-table dining experience. Wherein geography required traveling 75 miles from the modest metropolis that is the capital of New York State.
The bus ride itself was not without fortifiers; Bailli Bill Harris negotiated the aisle trying to pour sparkling wine into narrow glasses as the coach rocked along country roads. Yet not a drop reached the floor. In addition, one of Albany's premier restaurateurs and 30-year ChaÎne member Yono Purnomo provided fresh canapes of chopped chicken liver and house-smoked salmon. And when we arrived, we were nonetheless ignored by dozens of sheep grazing in a field redolent with fresh fertilizer.
Onward through the double doors into a cathedral of a barn with all the hay bales and country charms city folk could ever want. Ribbons of white string lights twinkled across the ceiling. An immensely long table was set for dinner—it ran nearly the length of the barn with benches that lined either side. Through a glass door the kitchen was visible, sparkling in stainless steel. Displayed on a sideboard the farm's wares: olive oil, jarred preserves and olives. We learned later that the sheep barn was on a level beneath us, but the ewes were not home just yet. The rams were at home however, and would entertain the ladies beginning mid-November. The newbies would arrive in late winter, and the farm would fashion its fresh ricotta in April.
Dancing Ewe Farm is the brainchild of Jody Sommers, a large animal veterinarian turned chef and farmer. After a stint in Tuscany immersed in learning the region's wines and traditional methods for making cheese and cured meats, he created his Shangri-la in the rich valley farmland of Washington County, New York. In season the farm is open for dinner on Friday and Saturday nights, and Sunday brunch, offering an array of handcrafted salumi, freshly baked bread, and cheeses made using the farm's own raw sheep milk.
Our dinner began with an antipasto of buratta, vegetable frittata, cippolini onion, and Dancing Ewe's cured meats and cheeses. A second course featured gnocchi with wild mushrooms, impossibly delicate puffs dusted with the farm's fragrant pecorino. Next came an entrée of polenta and short rib, the beef well-marbled and braised to lovely fork tenderness.
Sommers' knowledge of Tuscan wines is comprehensive. Before dinner he previewed the wines we would have that evening—he termed them "hidden gems of Tuscany." Using an electrified map that rose nearly to the rafters, we watched and listened as points of light signified Piemonte, Bolgheri, Maremma, Suvereto—traditional wine producing locales as well as rising stars.
From central Maremma on the southern rim of Tuscany, we sampled the 2017 Mantelassi Querciolaia. The vineyard's flagship wine is made from alicante, a grape from Spain genetically similar to grenache, first planted in Tuscany around 1600. Over the course of centuries the vines adapted to the region, making it distinct from its Spanish ancestor.
Another selection was 2015 Bullichella Coldipietrerosse, from a vineyard located in Suvereto ten miles south of Bolgheri, home to the coveted Sassicaia. Despite Bolgheri's vaunted reputation, excitement has been building around the producers of Suvereto.
The 2015 Parmoleto Montecucco Sangiovese Riserva from Maremma was a rustic, more muscular wine with prominent tannins. It reflected how the Tuscan cuisine of wild boar, pheasant, and other game has shaped the flavor and style of the area's wines. Finally, on the wine list that evening was a 2013 Roccapesta Calestaia, also a sangiovese, structured and elegant, and winner of every award in its class. For the Albany ChaÎne, it was an offbeat excursion, but spot on in every respect—adventures in wine coupled with superb food from ingredients grown just outside the barn where we dined. And, as always, the warmth of ChaÎne friendships.