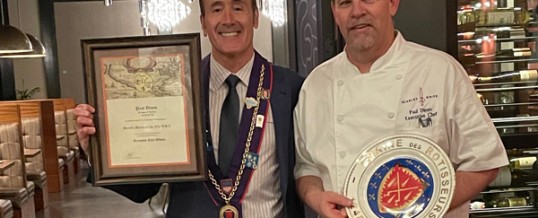 Mondiale Dinner at the Scarlet Knife
March 26, 2023
Article by Ilona Weisman, Vice Chargée de Presse
Photos by William M. Harris, Bailli
When the Albany Chaîne met in March for the first Mondiale since Covid, the subject was Priorat—those berry-rich Spanish wines from the stony, terraced vineyards of Catalonia. The site was Scarlet Knife, an exciting new restaurant in Latham, New York, the magnum opus of brothers-in-law James Warren and Executive Chef Paul Dimm. With the debut of Scarlet Knife in November 2022, the two men realized a long-shared vision to create a premier dining venue in the Capital Region. Bailli William Harris tapped Vice Echanson Robert Brass to plan and host the event. Dr. Brass succeeds Vice Echanson Michael Thomson who received a round of applause for his long and inspired stewardship of the Albany Mondiale. Whether a deep dive into wines of Lebanon's Bekka Valley or how to pair Riesling with sushi, Dr. Thomson's humorous missives beckoned us to wine discovery, and always concluded with the apt phrase "Mondialian minds want to know."
Scarlet Knife occupies a cavernous space that housed K-Mart in a prior incarnation. The main dining room is transformed by expansive windows, hazelnut dining tables, wood-patterned ceilings, and tinted glass walls behind which lies a vast inventory of fine wines. Albany Center Gallery provides a circulating collection of art displayed on the restaurant's copper suede walls. Come for the art, stay for the food. Or vice versa. As Mondialians arrived, Hilt Petillant Naturel Pinot Noir, Santa Rita Hills 2020 was poured at the bar; deftly crafted butler-passed hors d'oeuvres included lobster blini with horseradish crème fraiche and caviar and duck confit potato with tomato jam. Once assembled, the crowd of 35 moved to the Reserve Room, where Rob Brass delivered a comprehensive presentation about Priorat, worth attending even if it weren't followed by dinner and wine.
Carthusian monks introduced viticulture to the northeast corner of Spain in the 12th century—Priorat takes its name from the priors of Scala Dei, who ruled the area as feudal lords. After nearly seven centuries, the church sold the land, but in 1900 phylloxera devastated the vines, halting wine production until a revival in 1950. The terroir confers on Priorat its deep, bold characteristics of black stone fruits and baking spices. Unique llicorella soil is a blend of black slate, shale, and mica; the region is sunny and dry, protected from wind by the Montsant range. Vine roots are thus compelled to search as deep as 30 feet through rocky terrain for pockets of moisture, producing small, intense grapes.
Garnacha and Cariñena are the Priorat varietals. Dinner began with a clever Mix-Your-Own-Priorat exercise; each place setting had a pair of carafes—one containing Garnacha, the other Cariñena. First we tasted each one alone, next the two combined, altering the ratio at will to see how one building block of Priorat influences the other.
With a first course of cold smoked scallop on petite celeriac latke, we sampled La Conreria d'Scala Dei Les Brugueres 2020, a white Priorat with alluring notes of orchard fruit. Celler Cal Pla Black Slate Porrera 2019 an emblematic red, made the next course of braised rabbit ragout and fettucine fairly leap off the plate. Next came sliced Angus sirloin topped with a noteworthy cornmeal-dusted Lions Mane mushroom. The final Priorat of the evening was Perinet Vinya Pendants Carinyena 2018, a wine whose viscosity, chocolate and spice could render dessert superfluous. Yet a chocolate crème brulée tart stood its ground with hazelnut ice cream to soothe the palate, and combustible Amarena cherry compote to excite it all over again.
At the presentation of the Chaîne plaque, a special cheer went up for Sous Chef Carly Yezzo, one of the Albany Chaîne's own. An alumnus of the State University of New York Delhi Culinary Arts Program, Carly won the U.S. Chaîne des Rôtisseurs Young Chef Competition in 2020. Though unable to compete in the international round in Paris due to Covid travel restrictions at the time, Carly's dishes at the regional and national contests garnered the highest scores.
Kudos to Carly yet again, to newly-minted Vice Echanson Rob Brass for a boffo opening night, and to the Scarlet Knife, a spot-on quiver in the bow of Capital Region diners.