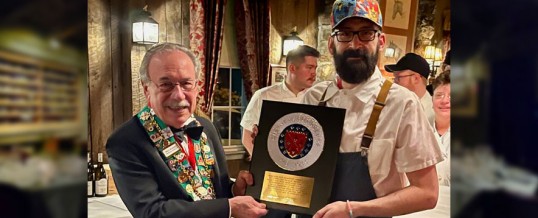 January 15, 2023
"Albany Chaîne at the Wishing Well"
The Wishing Well Restaurant
Article by Ilona Weisman, Vice Chargée de Presse
Photos by Bailli William Harris, Chargée de Presse Ilona Weisman, Vice Chancelier-Argentier Holly Katz and Vice Chargée de Médias Sociaux Christina Richards
In civilizations long vanished it was thought that powerful spirits with miraculous powers dwelled deep in the waters of streams and wells. In Norse mythology the god Odin sacrificed his left eye to Mimir's well in exchange for the power to see the future. Ancient mariners made offerings to the Greek god Poseidon in hopes of calm seas. And the Celts bundled reeds and yellow flowers for the deity Manannan mac Lir at the summer solstice to protect them from invaders.
It was an entirely different story in January when the Albany Chaîne held its first event of 2023 at a beloved Saratoga eatery The Wishing Well. Though a weathered stone well stood outside the entrance to the restaurant, neither eyeballs nor botanicals—indeed no persons either—were tossed into the well to ensure a glorious evening. Yet inside we found food, wine and a warmth that was everything we could have hoped for.
The Wishing Well is owned by professional member Bob Lee and his wife Mary Alice Lee. Built in 1823 as a private residence, the restaurant opened for business in 1936 and has welcomed generations of visitors from the nearby historic Saratoga Race Course. Despite additions to the building over the course of 200 years, it retains its early nineteenth century charm with floors paved in flagstone, rough hewn walls, and three grand old stone fireplaces. In a doff to the horse world, the walls of the main dining room are lined with paintings depicting scenes of thoroughbred racing.
The evening began with a cocktail reception in the oldest part of the building where low ceilings pose a risk of bumping one's head on the chandelier. Logs crackled in the hearth near a table where oysters were being shucked on the spot–a plump, briny eastern variety from Duxbury Bay in Massachusetts and Pacific oysters from British Columbia. Three mignonettes accompanied: first the classic, next with jalapeno, and last a delectable sweetened version made with Granny Smith apples. Passed hors d'oeuvres were innovative, among them Lobster Newburg in deep-fried tortellini, and a turkey meatball that condensed all the flavors of a Thanksgiving dinner into a single burst. The most notable, however, was an ingenious spun sugar on a stick, not of carnival cotton candy ilk, but a savory confection flavored with liver and onion.
A silent auction of 32 bottles of orphan wines from the chapter's cellar added to the fun before dinner. Some of the oldies but goodies for sale included 2007 Bouchard Chambolle Musigny, 2005 Chateau Montelena Estate Cabernet Sauvignon, and 2011 Francois Legros Puligny Montrachet. The bidding was fierce, and in the end Bailli William Harris donated $1,000 of the proceeds to the Chaîne Foundation which provides scholarships to culinary students, with the balance going to fatten the Bailliage's treasury for future wine purchases.
The mastery of Executive Chef Patrick Brown and Sous Chef Nicholas Newhart continued through dinner, starting with foie gras and light, crispy potato-wrapped frog legs atop pommes puree. Creamy Lobster and corn soup paired well with Beringer Private Reserve Chardonnay 2020, and butter poached swordfish worked well with Olivier Leflaive "Les Setilles" Bourgogne Blanc 2020. Here we paused for an intermezzo, a frosty and bold concoction of Punch Romaine made from white wine, Champagne, and rum mixed with shaved ice, citrus juices and simple syrup.
Onward to braised beef cheek, nestling with escargot and celeriac batons, and accompanied by Evening Land Seven Springs Pinot Noir Eola-Amity Hills 2016, an Oregon wine with a decidedly Old World character. Chateau Rollan de By Medoc 2009 was a show stopper paired with an overly generous serving of parmesan and rosemary crusted lamb chops. A fitting conclusion to this feast was English trifle a la nouvelle cuisine with lady fingers, pastry cream and fruit mousses. The multiple courses and ample servings at dinner brought calls for doggy bags that were promptly dispensed by the large and efficient wait staff.
On a cold day with bitter winds, outside the wishing well stood alone as it had for decades. Did members and guests of the Albany Bailliage defy ancient custom and offer nothing to the well? Or did an anonymous Dame or Chevalier de la Chaîne flutter a twenty-dollar bill down the well for Dionysus…